Postet av Andrew Travers Cosgrove Young den 4. Jun 2018
The training season is now well under way. Although we had a short camp in Oslo to kick the season off the first "real" camp was at the end of May at Sognefjell. Sognefjell is high in the Norwegian Jotunheimen mountains at 1400m above sea level. Here the winter snow takes a long time to melt. A tourist cabin at the top of the mountain pass decided to capitalise on this and start making cross country ski tracks in the summer. In order to get the tracks into good enough condition they salt them twice a day to keep the conditions firm and use piste machines to move around large drifts of snow to keep enough on the tracks. I think in geographical terms we'd call it a semi permanent snow field. I've been on several training camps there and the tracks are pretty much the same every year. Following the outline of the snowfield and linking together the patches that take the longest to melt. I've normally been there in June and once in July. This camp was the earliest I've been there and I was extremely surprised to find how little snow there was. The track was shortened down from 8k to 5,5k, stones were coming through and patches of grass and rock I didn't know existed were on show. I've never seen so little snow there. This past winter has been one of the snowiest winters on record in Norway, so this lack of spring snow just goes to show how warm it has been the past month.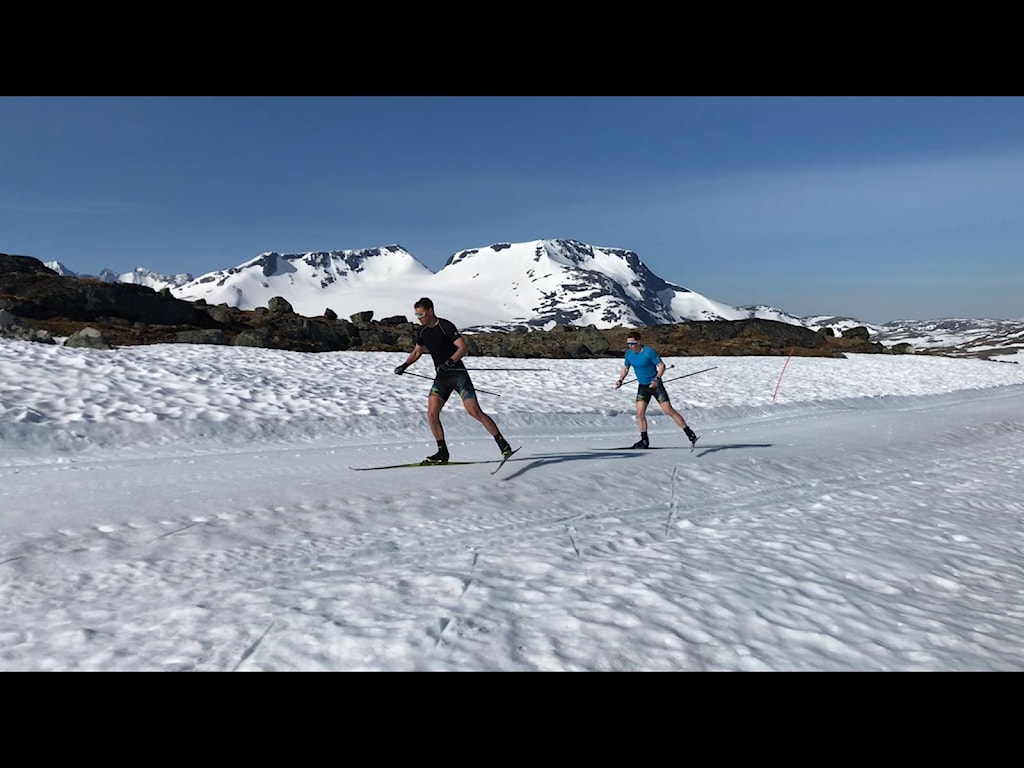 Skate intervalls with Andrew Musgrave. I managed to keep up and even do the odd turn on the front. And even lucky enough to get one of those times captured in a photo.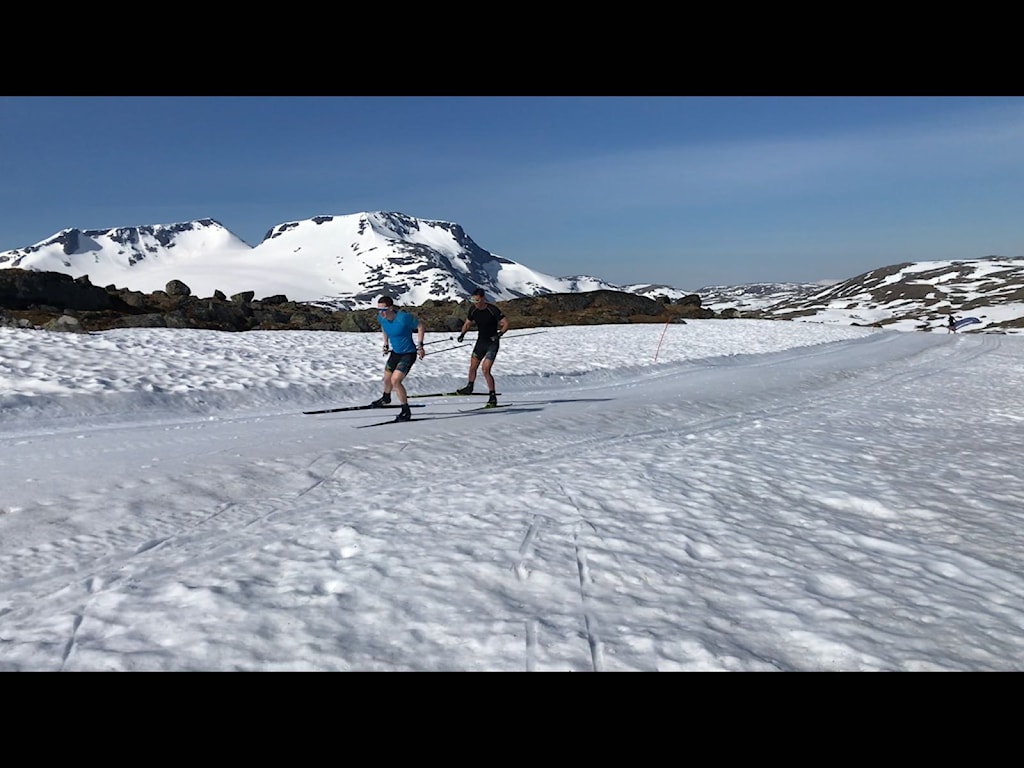 Following Andrew during a skate intervall session.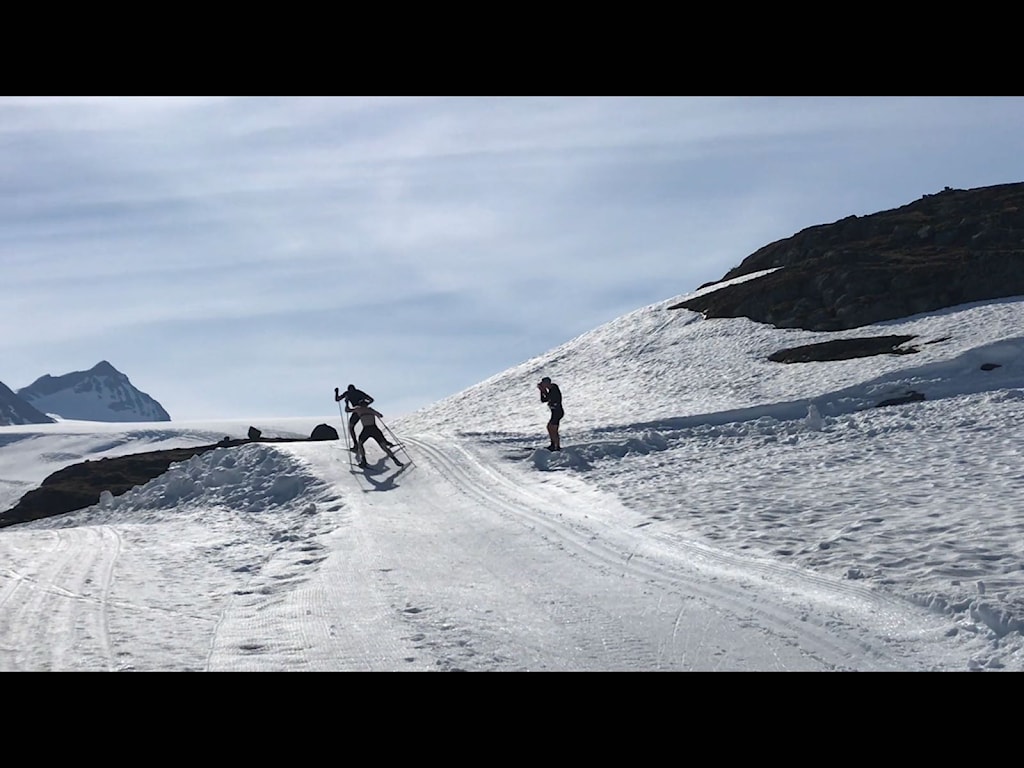 Sognefjell is quite scenic although we dont normally get much time to admire the scenery.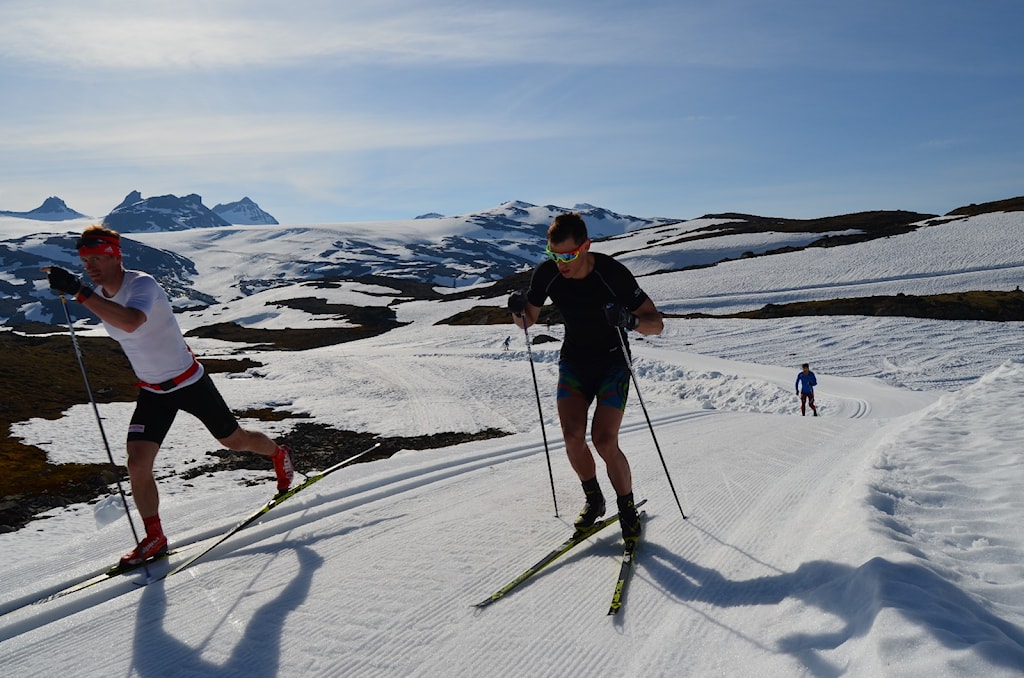 We were staying at Krossbu Tourist Cabin, a short 5min drive from the tracks and also a little lower at 1200m. The accommodation is slightly cheaper there and also, coincidentally, at the same altitude as the world champs next season. Whilst 1200m is not high altitude, it is high enough that some people get a reaction/shock when the they compete at that hight. So getting in an extra week at semi altitude was definitely not a negative thing. The past month in Norway has been hot, with temperatures creeping over the 30 degree mark down in the valleys. It was quite nice to head up to the mountains to get the cooler air. However it was still hot enough to be effecting the snow, so we had to have some quite early starts and we started our afternoon sessions earlier than normal to go out as soon as the tracks had been salted. This meant a 7am wake up every day, and starting our first session at 8, as soon as the tracks opened. I was sharing a room with Andrew Musgrave, as has become our norm on training camps. But it wasn't until this camp I noticed that his phone alarm goes off exactly 3 seconds before my watch alarm. Thats 21 seconds of sleep across the week that I will never get back.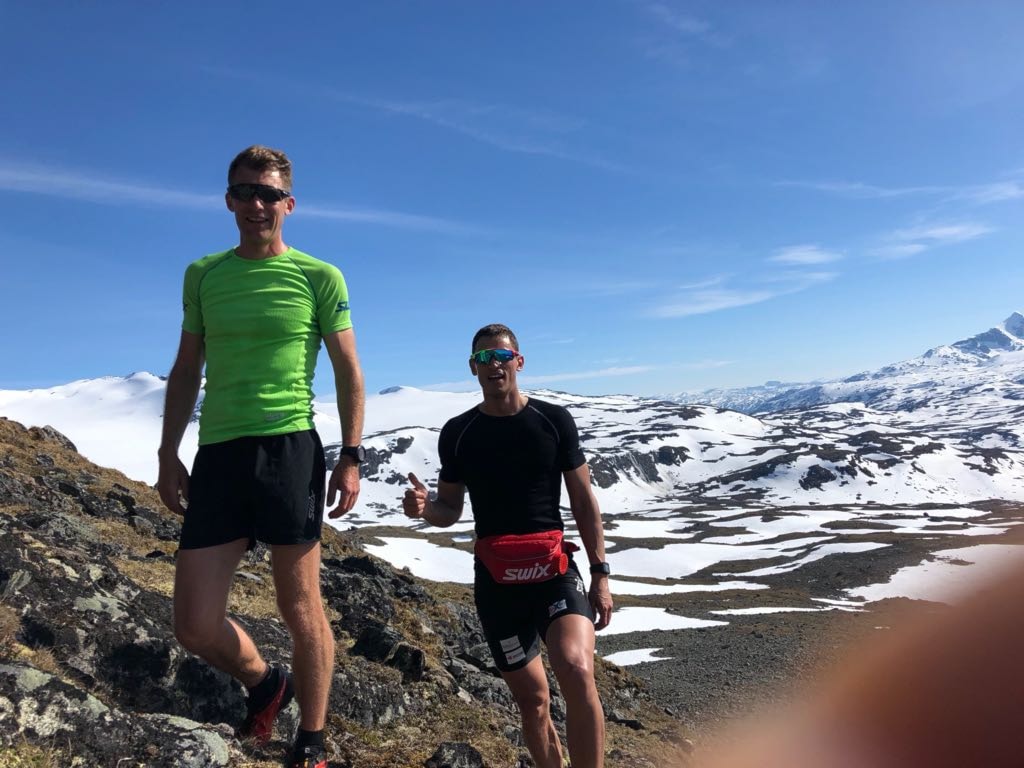 We had 1 running session during the camp. The Swix Racing Service Manager, Morten joined us. Andrew got this picture of Morten and I at the highest point on our run.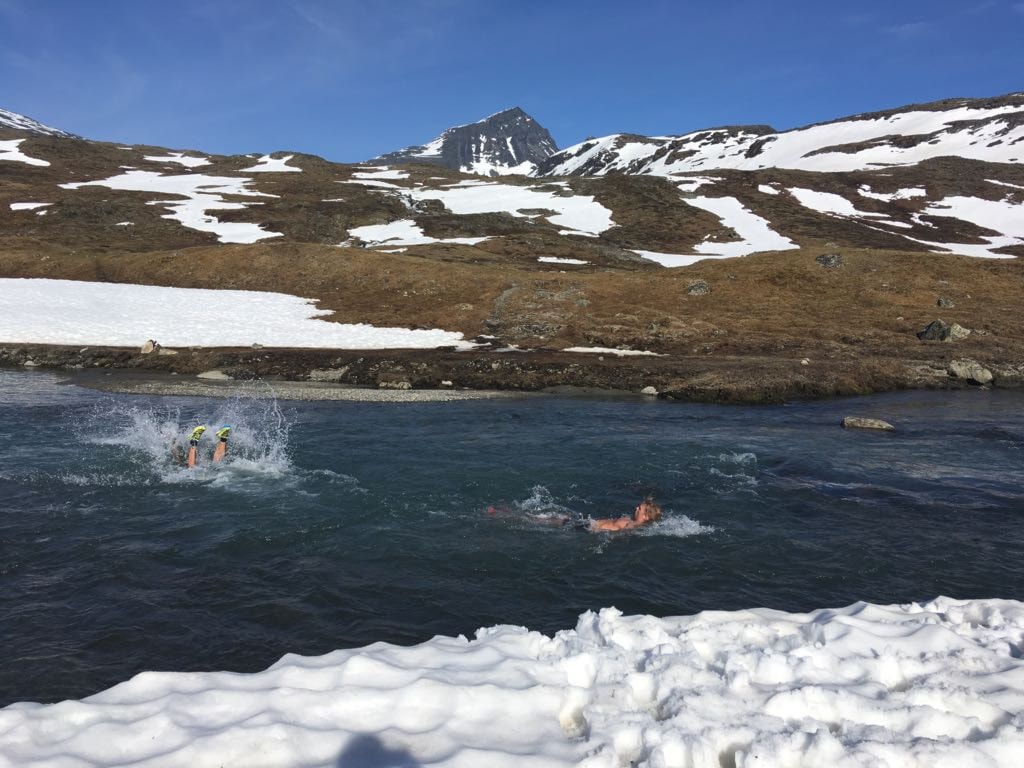 There are small things that become second nature whilst on a Sognefjell camp. I find them quite interesting. At the time they don't seem particularly special, but looking back there isn't really anywhere else in the world that it happens other than on training camps. Our morning routine started off with suncream. Literally the first thing we'd do after we got out of bed is cover ourselves head to toe in suncream. A mixture of the fact I didn't see a cloud the entire week, the reflection of the sun off the snow and the higher altitude means there is quite a high sun burn risk. You do not want to get burnt on a training camp. It is one of the most uncomfortable experiences. After sun cream, breakfast, which was one of the 5 meals a day. 7am breakfast, 12 midday lunch, 14.30 second lunch, 18.30 dinner, 21.00 snack. Apart from The Shire in the Lord of The Rings I'm not sure of many other places where it is normal to eat 5 meals a day. After training there is lots of wet kit to dry. Boots, gloves, t-shirts, caps, shorts. The front steps of the hotel were converted nicely into a drying room. All the teams staying there laid their sweaty gear out to air dry. Again I'm really not sure there are that many hotels who would be totally ok with this.

By day 4 I was longing for those extra 21 seconds of sleep. I went to bed earlier and earlier each night as the camp progressed and getting up became more and more of a chore. Training camps are about overloading the system. Doing more than you can do at home on your own and pushing through some boundaries. I managed to force myself through the camp and after a few easy days when I got back I was feeling a lot better for it. Suddenly a 2hour run feels easy and double poling on the rollerskis for 2 and half isn't a problem. It's rare that I can say I really feel an effect of one specific training block or camp. But this time I feel like I really am a lot better off after a tough week. I feel like that week has given me a good starting point for the rest of the summer to do the work I need to do.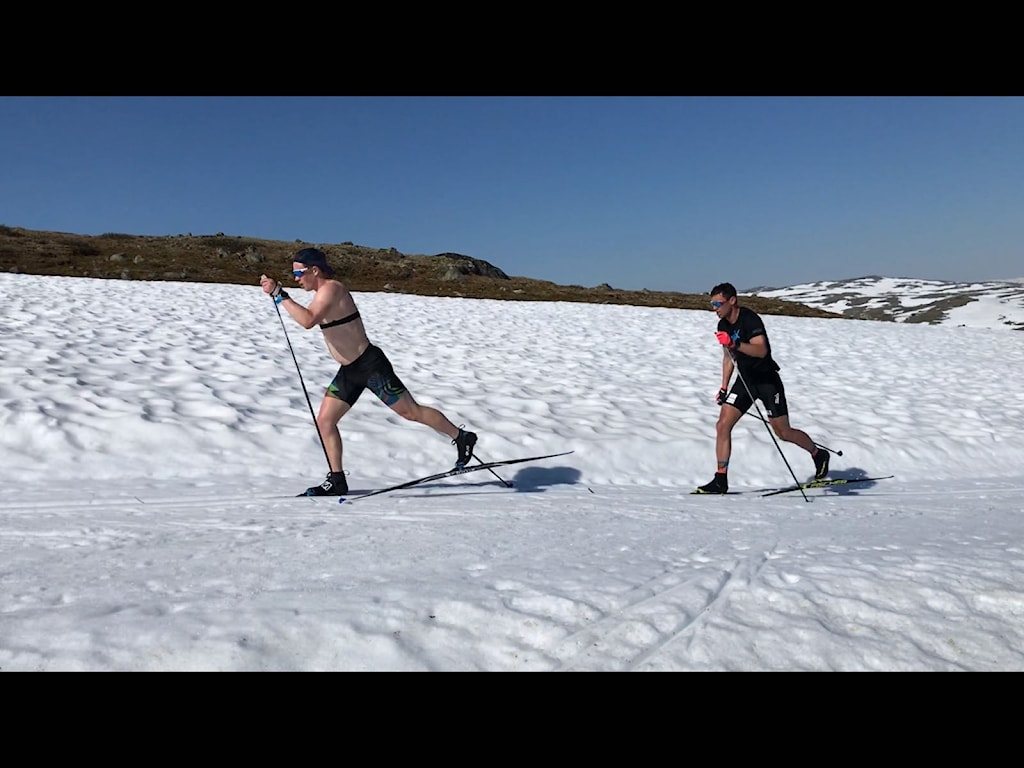 We did a lot of skiing. Both skate and classic. Here I was trying to keep up with Andrew on a classic intervall session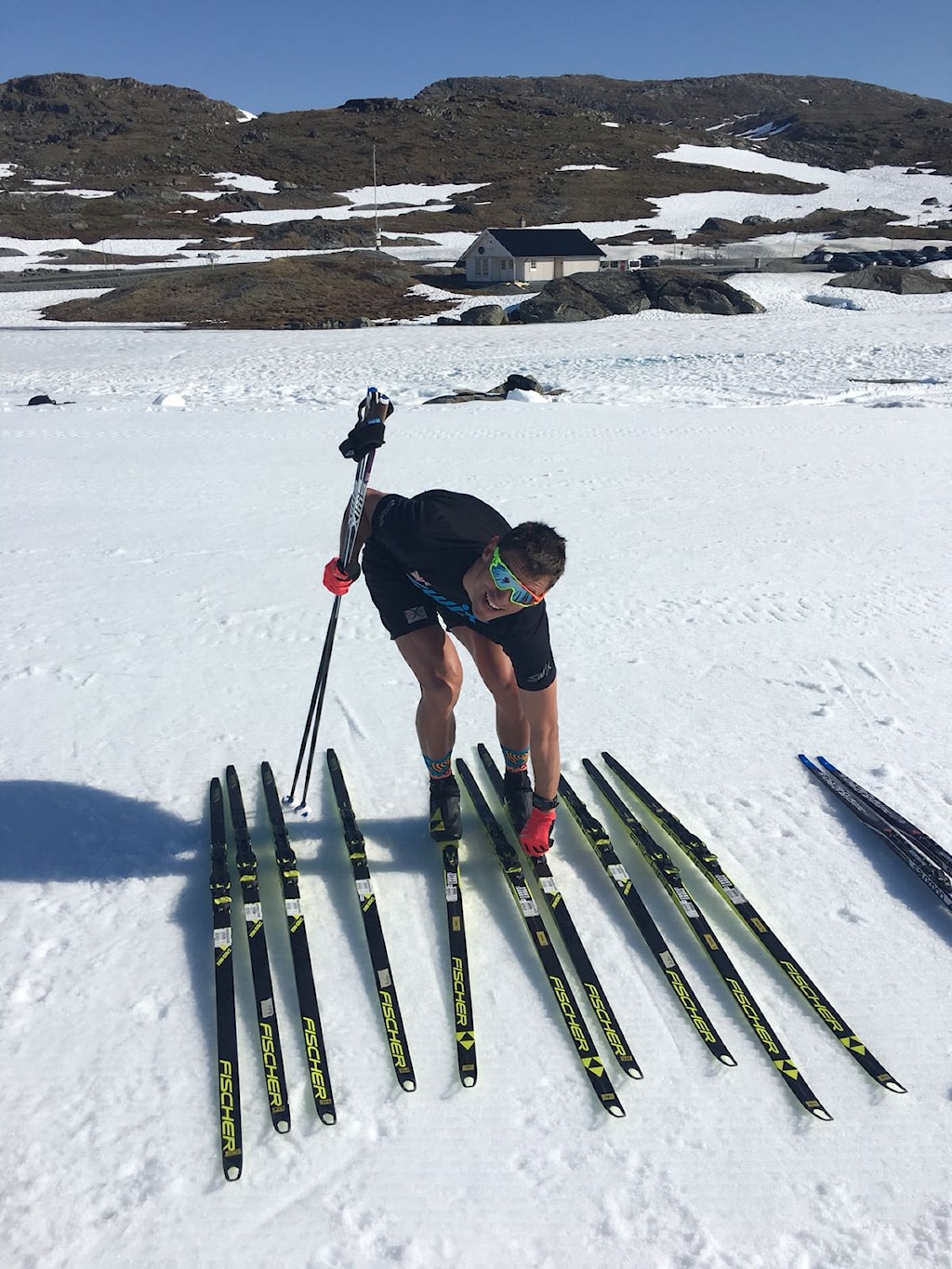 I used the last day of the camp to test skis. I was testing skate skis specifically for salted snow. There are a few races each year where the organisers have to salt the snow. So having a bit og knowledge over my skis for those conditions is useful.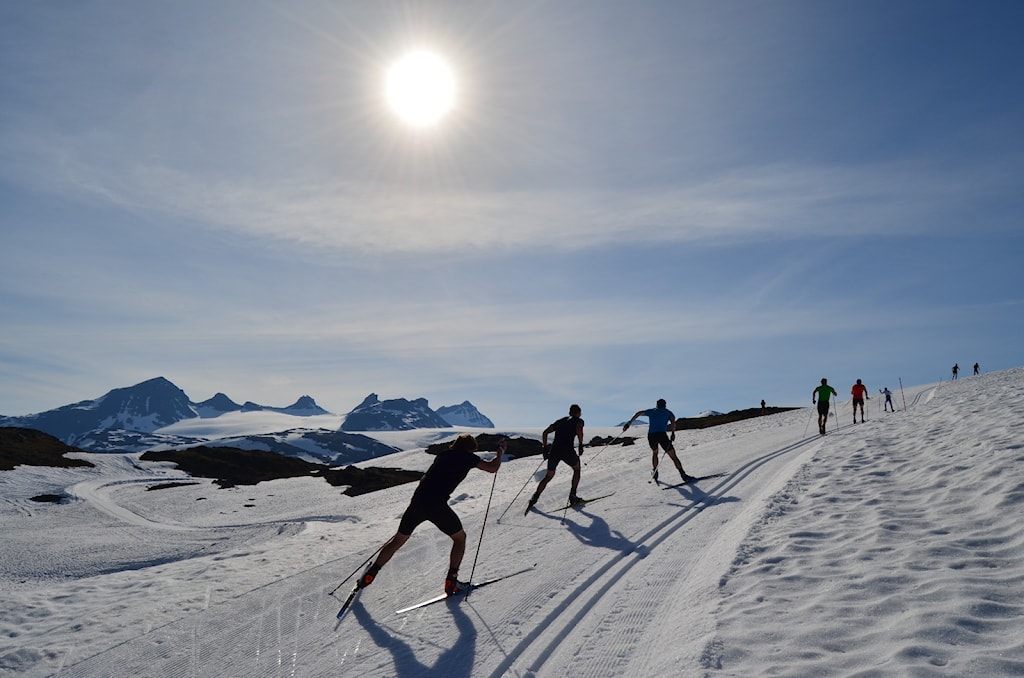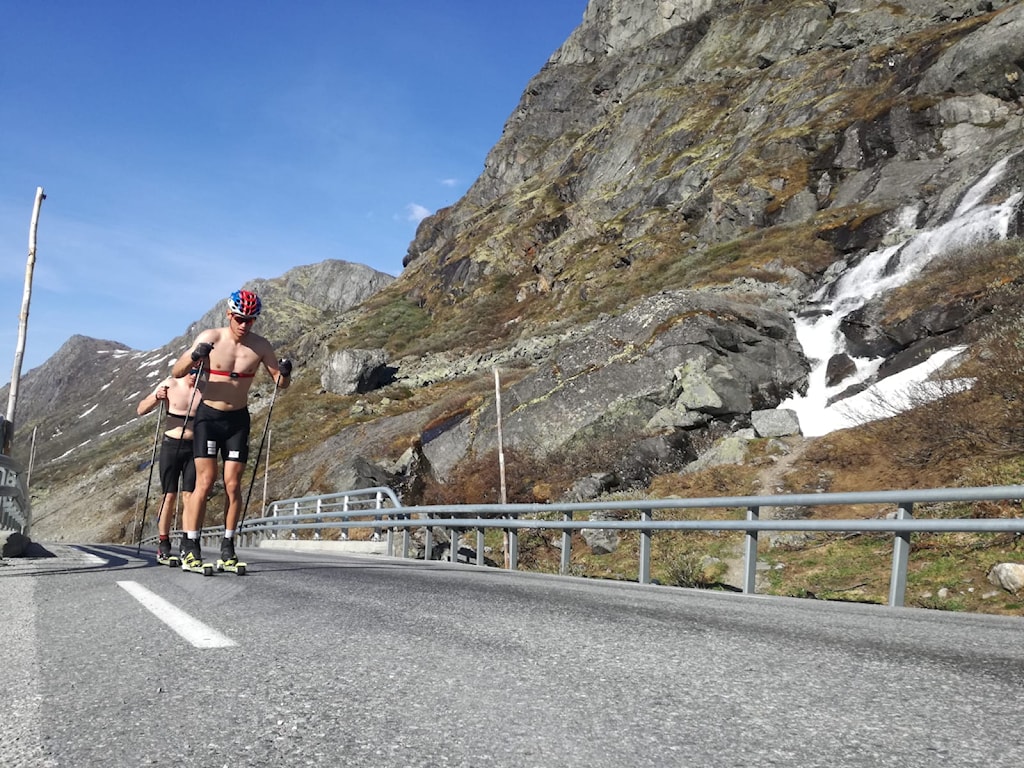 We're headed back to Sognefjell in mid June for another week of training up there. We are hopeful there will still be some snow. But the extremely warm weather Norway has been experiencing has probably taken its toll. I've got another 2 weeks of training in Lillehammer before then and I'm enjoying doing some of my favourite rollerski and running routes. The weather has been so hot and dry that the ground out in the forrest is really dry and dusty, making running quite fun and different to normal. It also makes stoping by the lake on the way home for a quick dip a good incentive for training. The only problem with the heat is trying to get to sleep!

---
0 Kommentar
Kommentarer
Logg inn for å skrive en kommentar.