Postet av Andrew Travers Cosgrove Young den 29. Sep 2017
I'm sitting in the airport on the way home from what was one of the toughest camps I've been on. The British Nordic Ski team migrated south for the last 10 days. In search of good rollerski conditions and a final dose of summer before the winter season kicks off, our final dry land camp of the year took place in Alcudia on the northern coast of Mallorca.

The rollerski conditions there were pretty much ideal. Good flat loops, hilly loops, long mountain passes for intervals, dead end roads for speed training. The running is good with both the beach and local mountains making it easy to get off the road and the fact we were living on a beach front in the Mediterranean meant we could even add in a few open water swim sessions. On sunny days the temperature creeped above 30 degrees, and it was above 25 every day. Simply put it was easy to motivate your self and get out the door and train.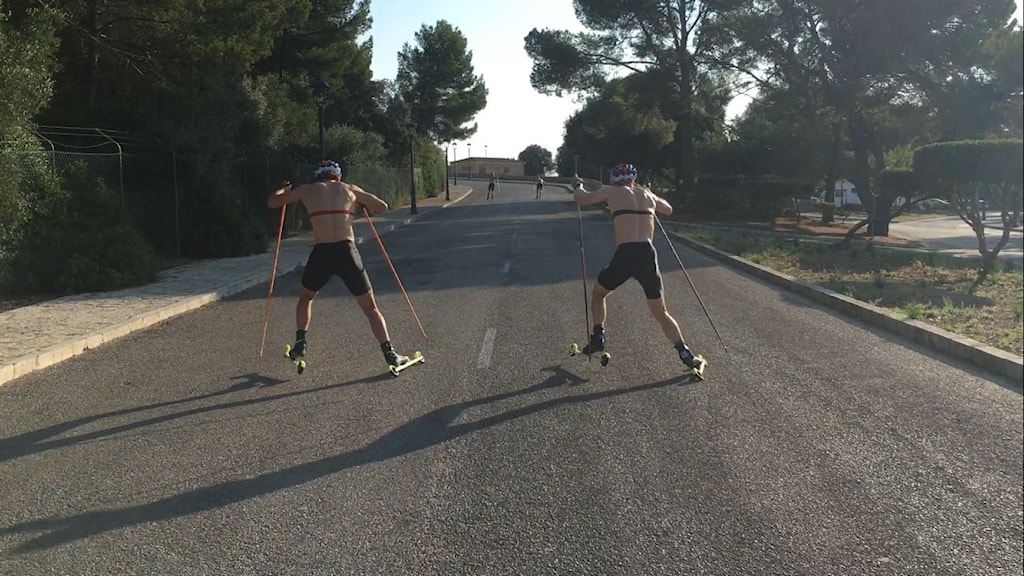 I'd been struggling with a bit a of niggle in my knee for a week or so before we went. So I decided to give most of the running sessions a miss. This meant I got in some more hours rollerskiing and an extra swim session compared to the other guys. I swam a lot as a junior and competed at a national level in Scotland. Since about the age of 16 I've done nearly no swimming at all. I think I used up my lifetime quota of hours in a swimming pool, and the idea of floating about in a liquid full of chemicals and who knows what else just ceased to appeal to me. In fact you could say I had grown to hate swimming. I'd been to Mallorca on a training camp once before in 2011. But I didn't get in the sea. This year I was fully planning on continuing my tradition of refusing to swim. The camp plan had 30min of swimming as a warm up for strength training one day. Partly because I couldn't run, and partly because the other guys and coaches bullied me into it, I ended up going swimming. Surprisingly I found it quite enjoyable. Turns out the Mediterranean Sea is very, very warm, quite like a bath and the clear water and sandy sea bed made it quite nice for swimming. I got hooked and after the next intervall session I headed out for an hours swim as a recovery session. If I find somewhere as nice it might not be 9 years before the next time I do a swim session.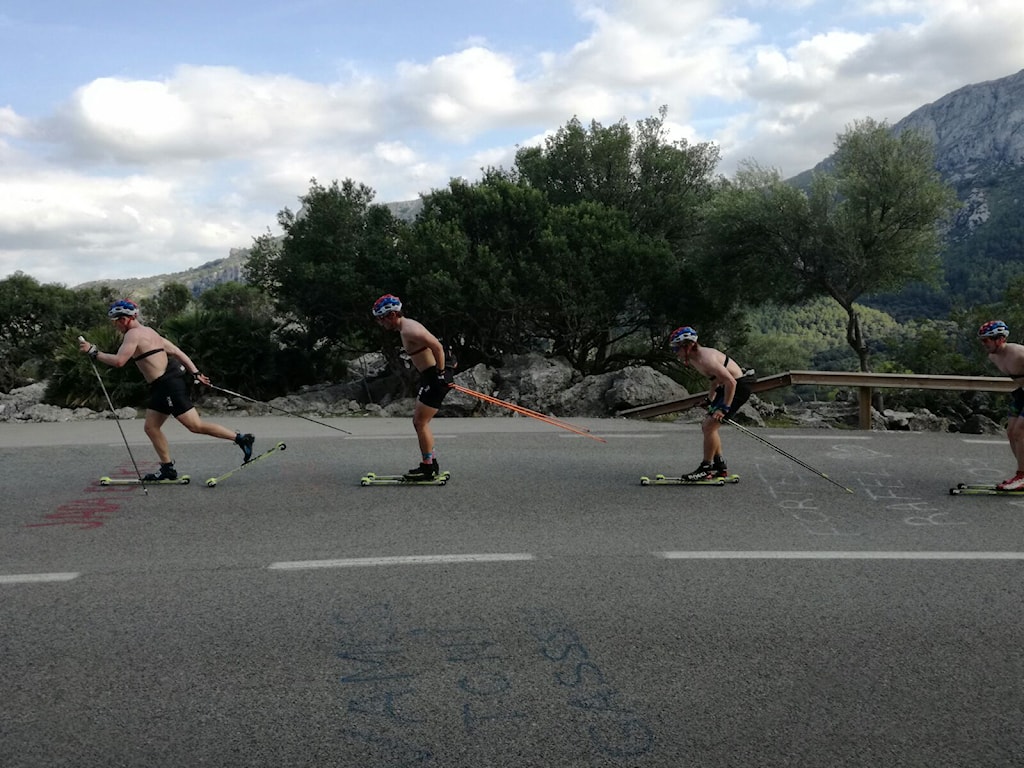 Although we were at one of Europe's biggest charter holiday destinations there was little time for charter holiday activities. The camp was intense. Very intense. In 9 days of training I trained 35 hours and had 5 intensity 4/5 (race pace and sprint pace) interval sessions. The training load was just at my upped limit. The final day was just out of reach. I was tired and struggled during the last interval sessions and the last easy rollerski was a bit of a task to finish. That is sort of what we are aiming for on training camps. The level is just a tad above what I can actually manage and it is a real challenge to finish the camp, a real test of my limits. Of course after a block like that I need to rest. Today I have a fairly relaxed travel day and tomorrow I'll have a rest day. After that I'll have a week of fairly easy training before it all starts over again.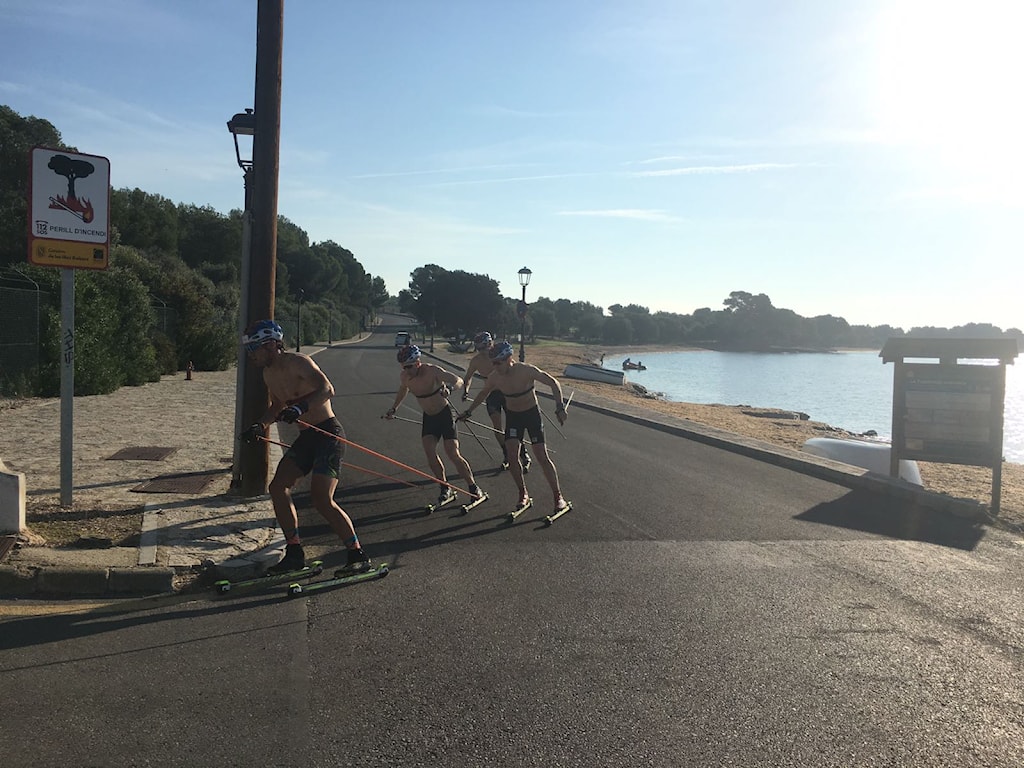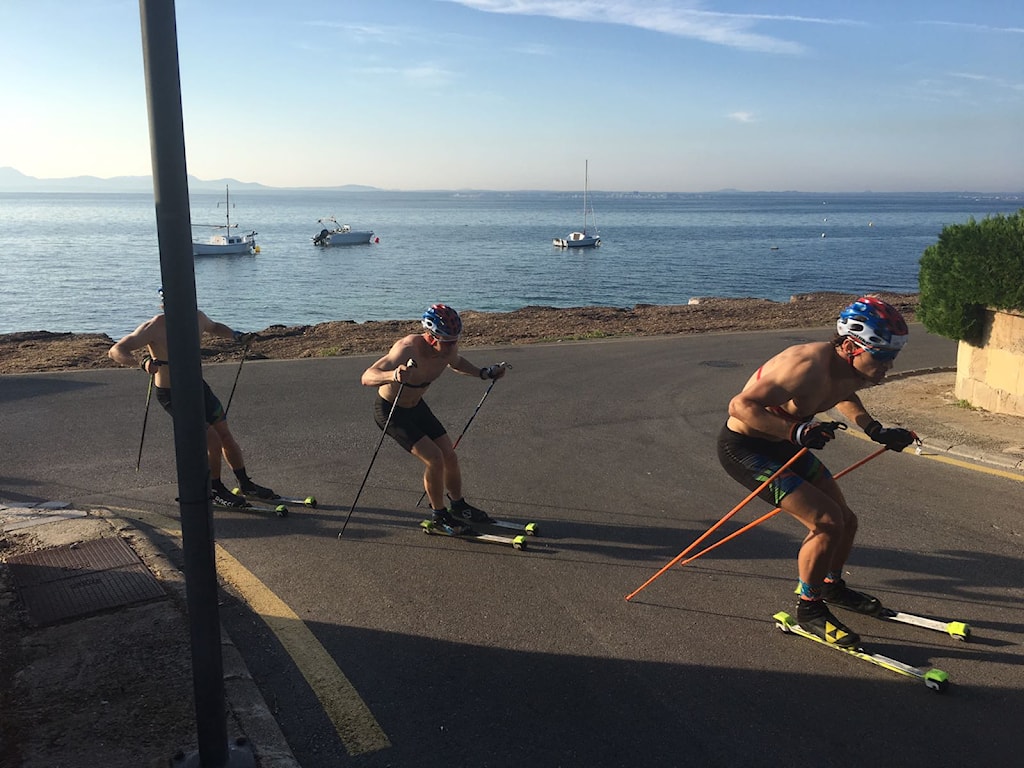 Because I was backing off on the running and I wanted a few easier sessions I ended up doing a long rollerski with one of our coaches, Jostein. He biked along beside me and carried extra food and water for me. Another time I skied with the girls but put on some slower rollerskis so their pace was about right for me.
The heat was pretty brutal. It took 2 or 3 days to get used to it and for my heart rate to come back down to normal on the long sessions. Once I found a good routine for drinking enough fluids it became a lot easier, it was just key to stay on top hydration. I counted up how much I drank on the warmest day with the longest hours of training. It was just over 9 litres if you include my milk on my breakfast cereal. Most of that was electrolyte sports drink. I'm looking forward to heading home to milder climates and not having to drink sports drink every day.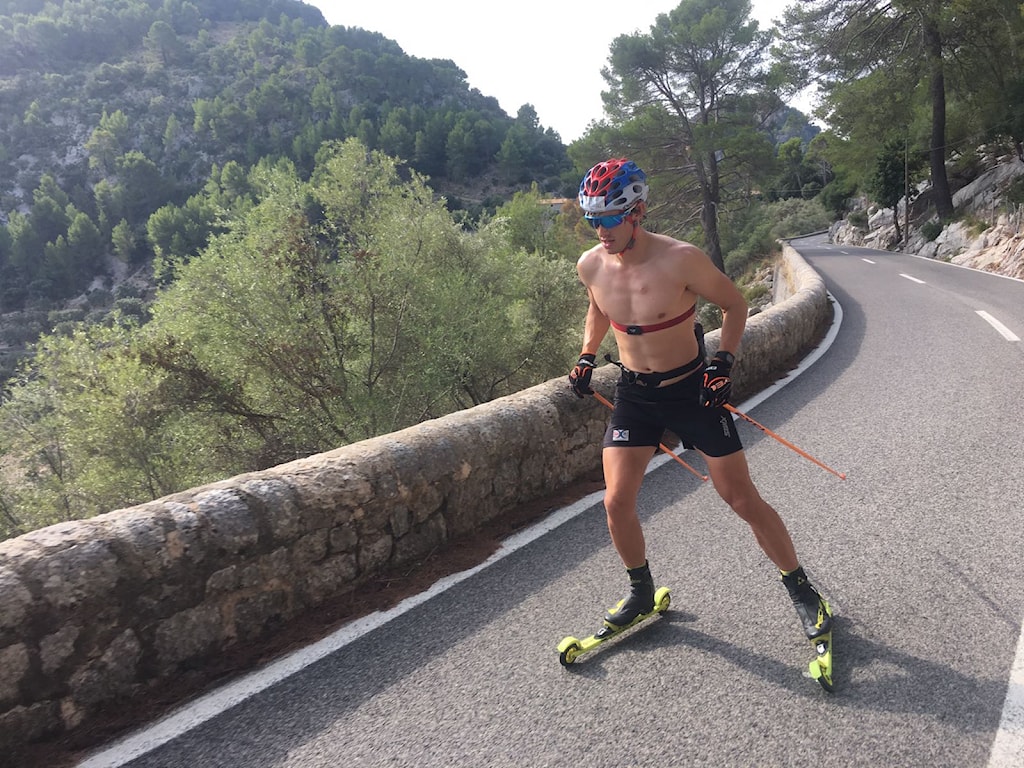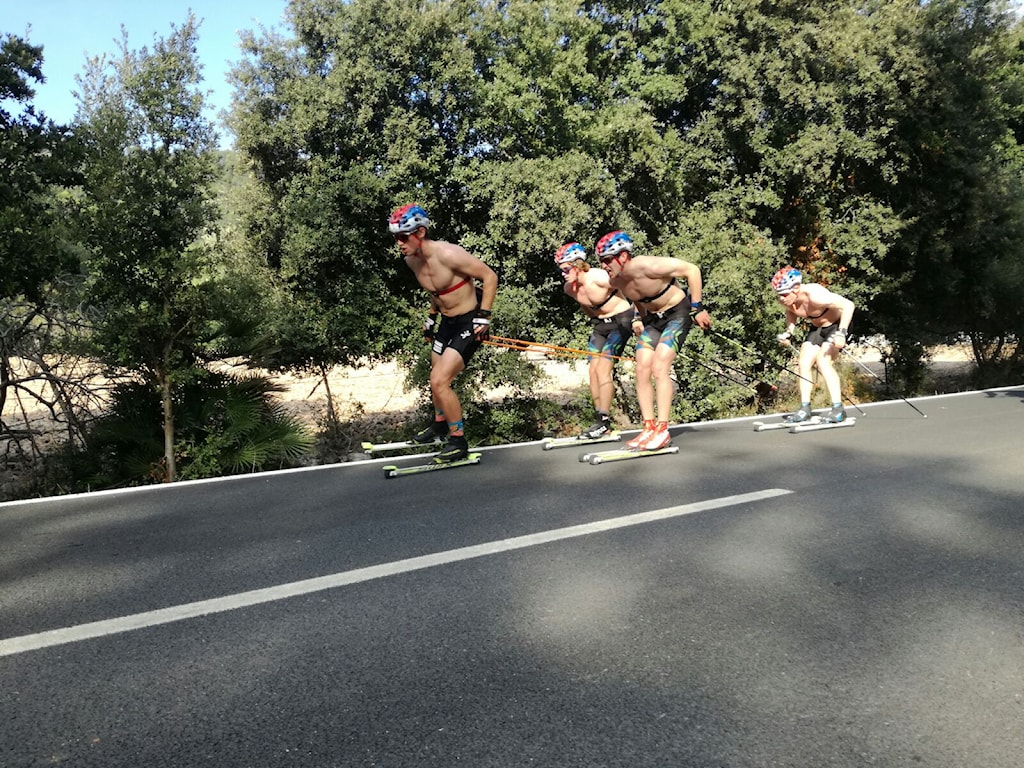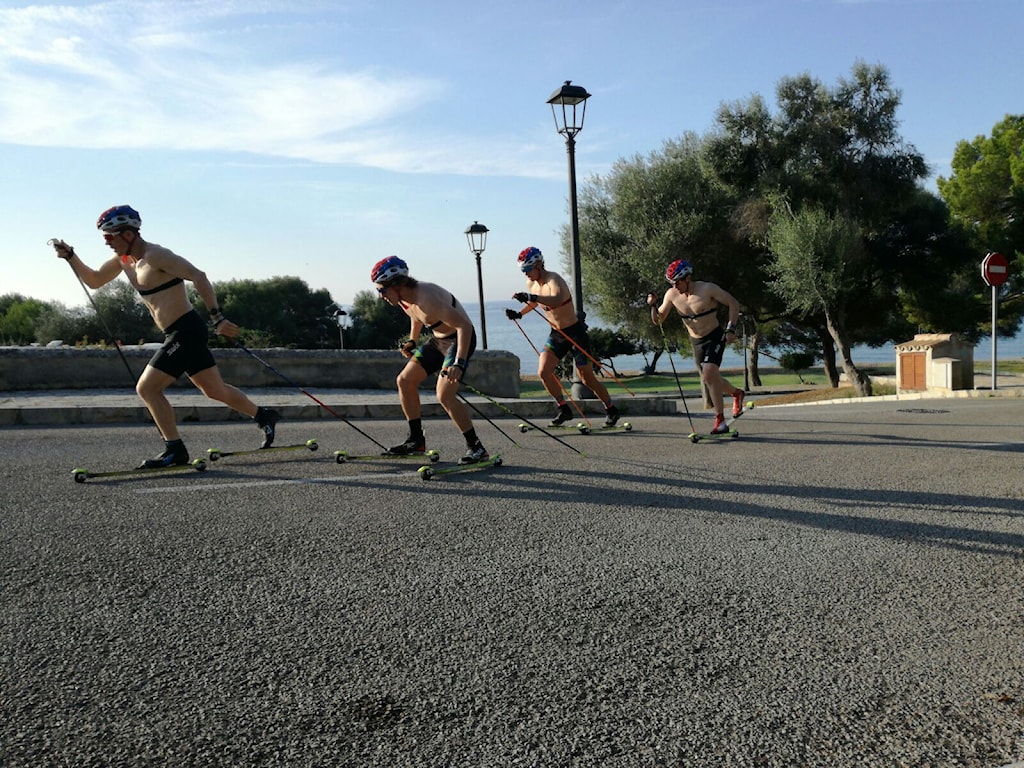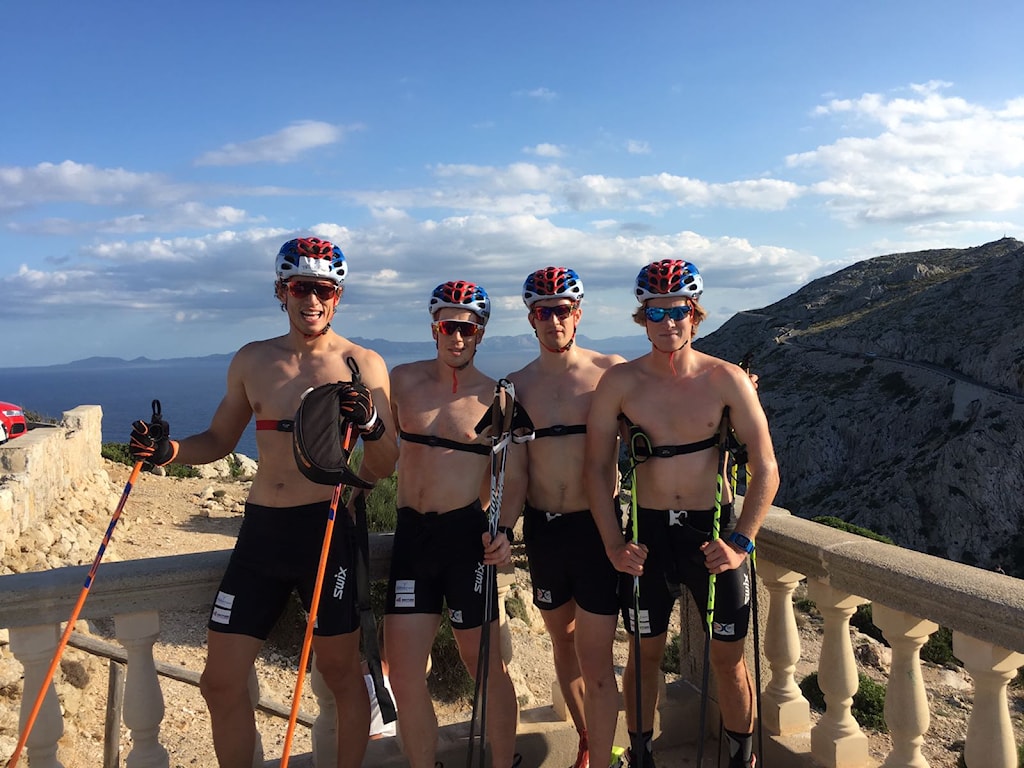 Because of the high temperatures we started quite a few sessions at 8am. It was early but getting to train with the sun rising and in the relatively cool temperature was worth it. I got into a good rhythm of getting up early and having a good nap in the middle of the day helped with the sleep and recovery.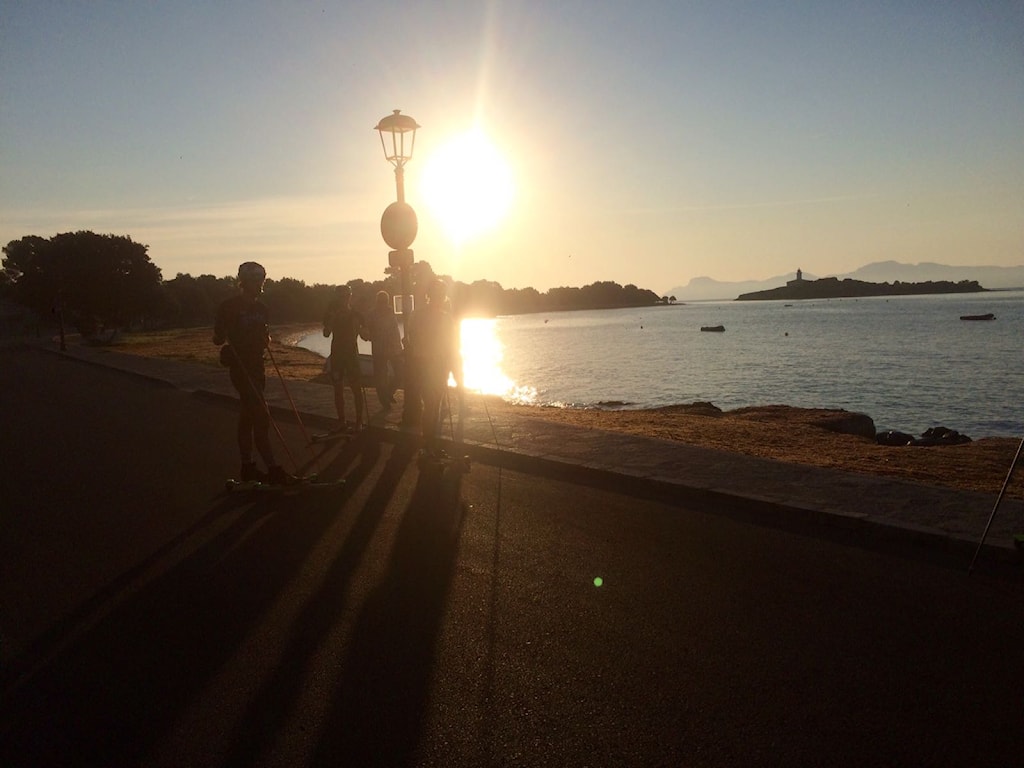 My next stop is actually home in Scotland. It's not often I get to go home so I decided to take advantage of a few easy days of training. I'm looking forward to being at home. It's the last opportunity I get before the winter and the constant travel to training camps and races kicks in. Although I'm at home I won't stop training completely. I'll catch up with our strength coach, Catriona, and with the teams physio and make sure everything is in place before a busy period over the next few months. I've been doing a bit of an experiment with strength training for the last month or so. Historically I've been a bit weaker than the rest of the team in my upper body. So we had a little block to see if I could close the gap. It will be good to catch up with Catriona and see what kind of gains I've made over the last month.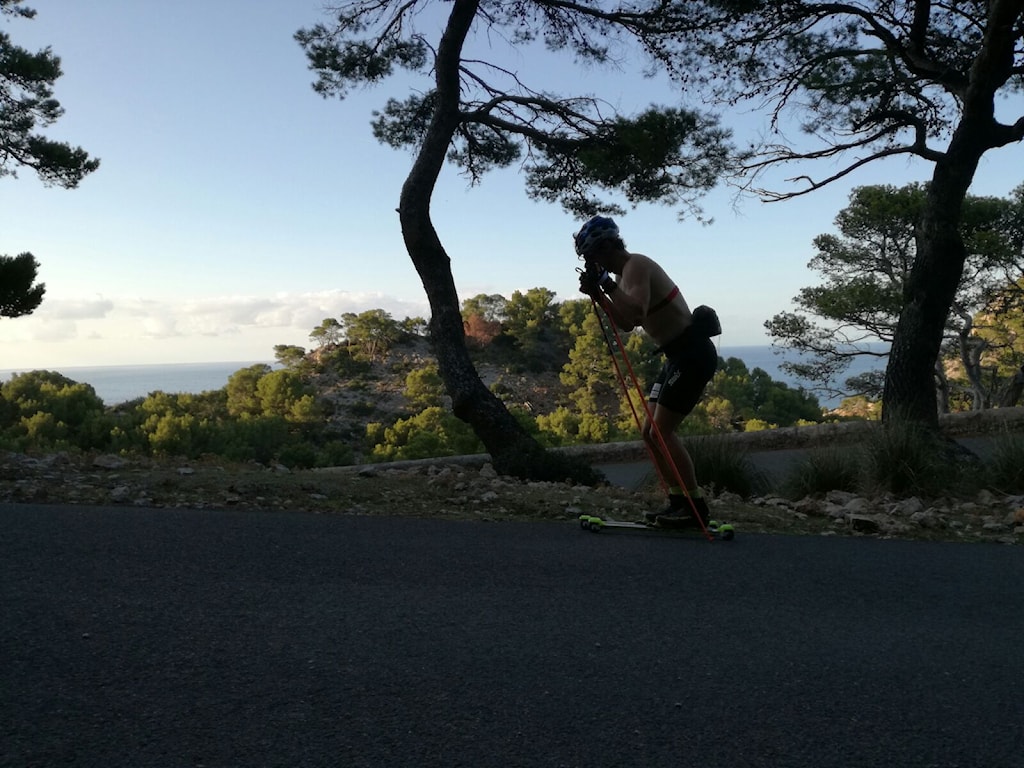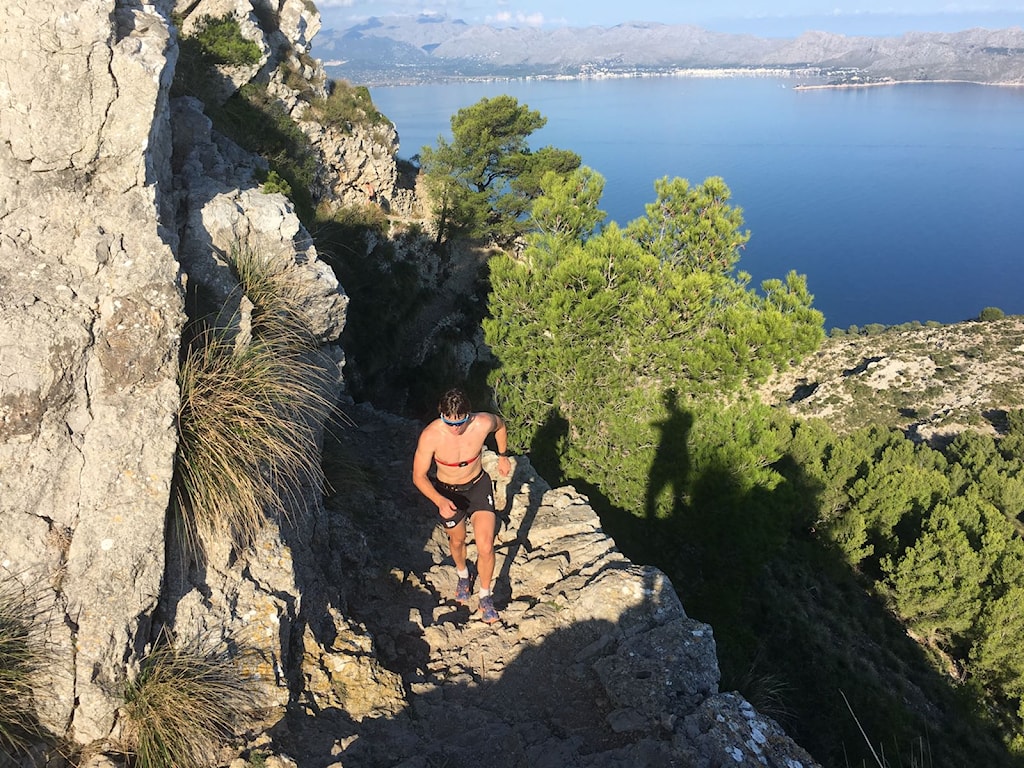 I'm now at the end of 8 weeks of uninterrupted training. I had a 4 week block, an easy week and now 3 more weeks of building the hours and the intensity. Although I have said a few negative comments about my form in the above blog I'm actually now starting to feel that I'm really responding to training and heading in a good direction. The sessions I got beat on are sessions I should expect to get beat on and in the important sessions for me I performed well. Tests are showing I've improved in the areas I needed to improve in. I hadn't trained that intensely before coming to Mallorca and a lot my hard sessions were fairly "stale". They were good, and good training, but I didn't have that extra gear and pushing myself to the limit hadn't become second nature yet. Now, after this camp, pushing my self to the limit is a bit more natural and my top speed seems to be coming back. We still have 7 weeks until the season starts. My aim is to continue this good trend and the hard work from the past 8 weeks.

Hopefully by the time I update with the next blog the topless training pictures will be switched out with pictures of skiing on snow.
---
0 Kommentar
Kommentarer
Logg inn for å skrive en kommentar.