Postet av Andrew Travers Cosgrove Young den 8. Sep 2017
As a cross country skier I spend a lot of time outside and so naturally the weather plays a big part in my training and just my general day to day life. The last few autumns have been fairly mild in Norway with winter not really kicking in until November. And we tend to head to altitude in October so I've missed the worst part of the year when it's no longer summer but there isn't enough snow to ski yet. This year autumn arrived like a brick wall. Last week Callum Smith got a group os us together to make jam... this sounds ridiculous, but was actually a lot of fun. We were out until the late evening picking wild raspberries (getting stung by nettles) before we made them into jam and everybody took their quota of jars home with them. Homemade raspberry jam is very tasty however it does look a bit weird in an Uncle Bens' Sweet and Sour sauce jar, or a curry paste jar. The following day was a "woolly jumpers and sit by the fire" kind of day. And since then I've not looked back. I've unpacked my black plastic bag of winter clothes that I'd hidden away in the loft, my favourite wool sweaters are on and the heating is cranked up (the heating is always cranked up, this is Norway, but now I just don't object to the heating be on max). The weather has been miserable. It has rained every day for what feels like a month and the long term forecast is for rain with a bit of grey cloud mixed in. Our bathroom has turned in to a perpetual exchange of wet training kit for vaguely dry training kit, and the hallways a contestant buzz of boot driers. Lamb is now overfilling the supermarket shelfs as the sheep are taken of the hills and the price of cabbage is now at the actual European average, making it seem insanely cheap. It is safe to say autumn has arrived.

I always find that with the arrival of autumn it causes a lot of skiers to start stressing about their training and wether they have done enough or good enough work through the summer. I've been fairly good about not stressing out. I just finished a really good block of 4 and half weeks of training and now I'm having a slightly easier week before I get back into a big training block. The past 4 weeks have been full of really solid, really high quality training hours. Perhaps that is why it is easier to be confident and remain calm when skiers everywhere seem to be losing their heads at the thought it is only 2 months until the season starts. I know I've done a good job, and I know that training is going in the right direction.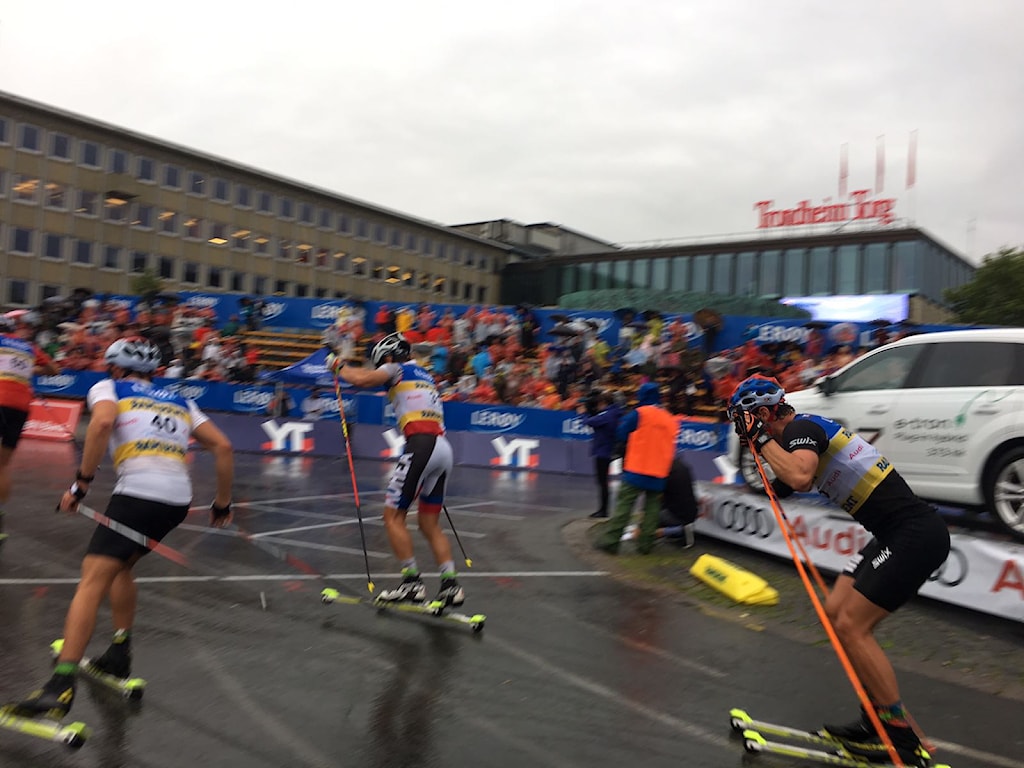 I raced at Toppidrettsveka with the British team in August. The programme was pretty brutal with 4 races in 3 days. The first 3 races went quite badly. I'd been struggling with getting my speed up after our altitude camp in the summer. And that was evident with my results in the sprints. The last stage was a 15k classic pursuit start through Trondheim city centre. I hadn't picked up any points (top 30's) during the first 3 races so I was starting in the wave at about 2min behind the race leaders. The race was in an absolute downpour. There was so much standing water on the course that at times it felt like you were skiing into a pile of sand and it was tripping you up. I ended up having a very good race with the 18th best time of the day and only 1 or 2 other skiers from the "wave" beating me.
The group racing through the standing water on the start finish line at Toppidrettsveka

We stayed in Trondheim for a few more days to have a bit of a training camp. Andrew Musgrave got to show us around his local rollerski routes. He took us on some pretty fun loops even if they were a bit longer than planned and involved a bit of sprint to get home. On one long classic ski Muzzy ended up breaking his pole. He broke it so high up he couldn't get an extra rollerski tip on so he just skied at the edge of the road with one pole in the ditch. He then proceeded to complain that we were going too slow, went to the front and increased the pace for half an hour before the van caught up to us and he got a spare pole. It was also at this point we realised we were 45min away from the hotel but had to check out of the hotel in 30min. Safe to say the speed for the last half an hour was quite high!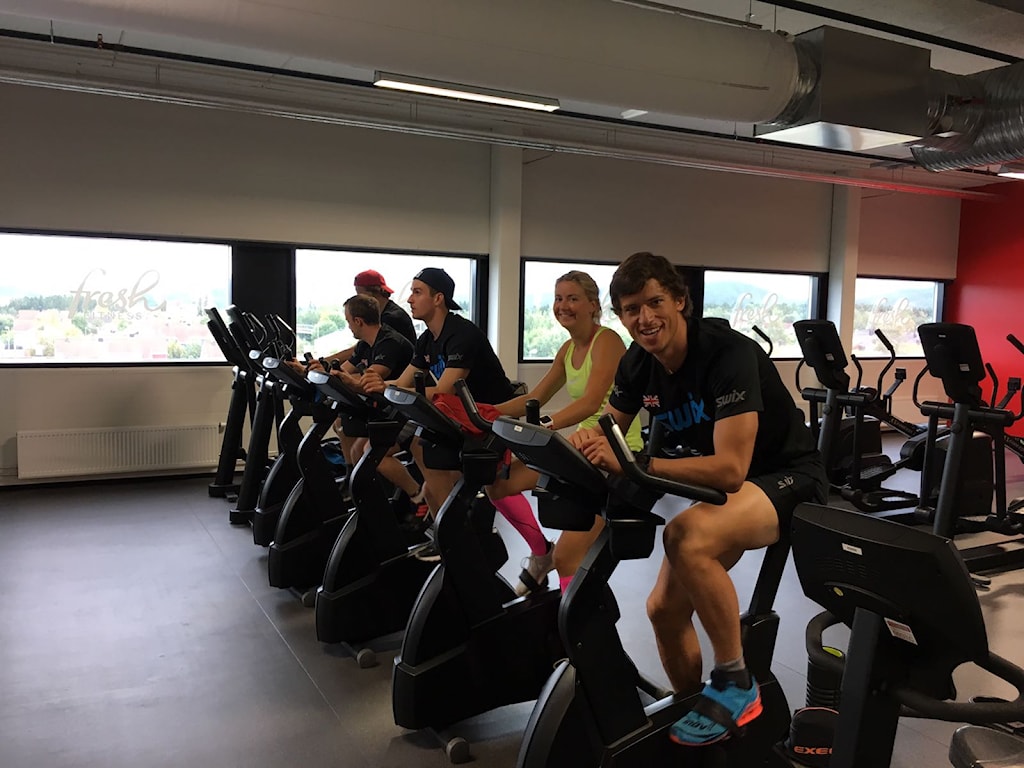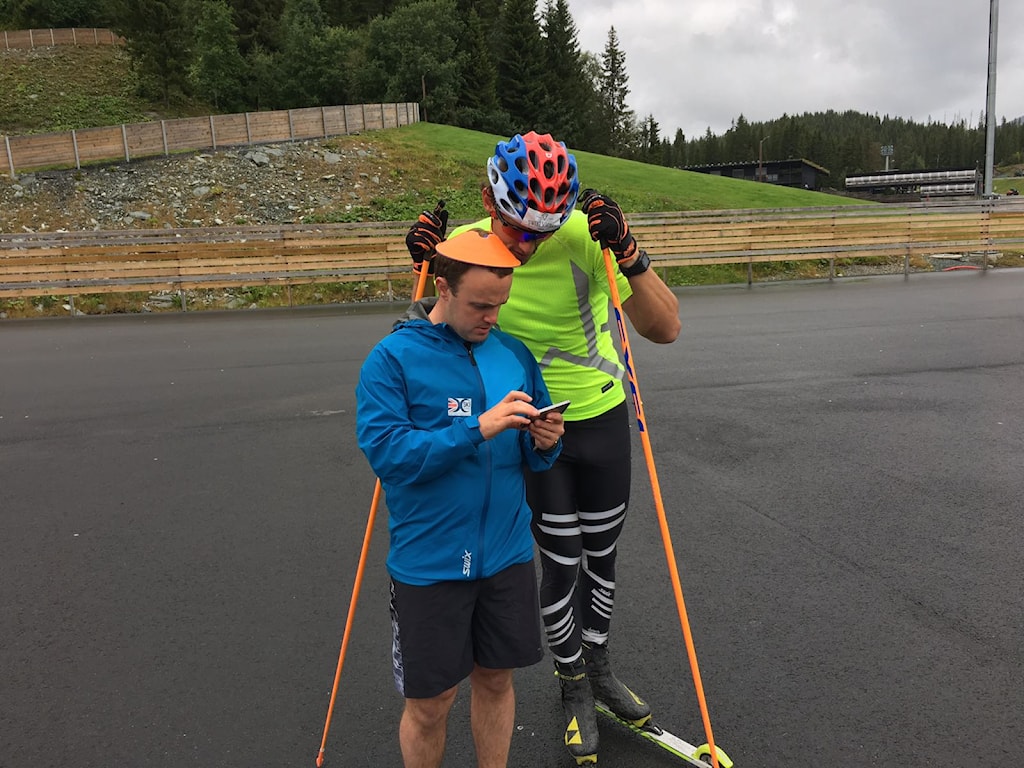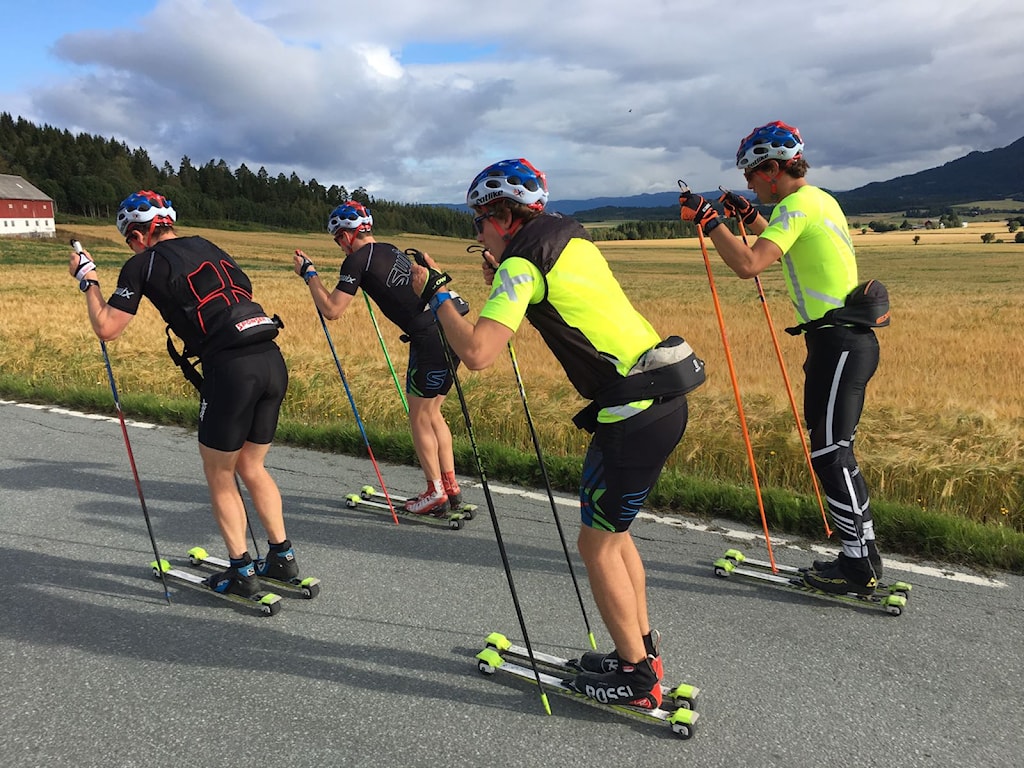 After toppidrettsveka I had a day in Lillehammer before I headed to Torsby to get some skiing on snow. The Torsby ski tunnel has been used by elite skiers for years in order to get some quality on snow time in the middle of the summer. I've been there most years since 2008, although I didn't go last year. This year was just a flying 2 day visit. The coaches and some of the wax team were going to be there testing some skis and sorting out the wax system for the winter. I got in a few valuable technique sessions with Jostein and a good level 3 classic interval in the tunnel. Apart from it being mind numbingly boring, staring at a concrete wall for a few hours at a time, training in the tunnel is actually quite productive and the conditions are really very good. The other benefit of going to Torsby is that grocery shopping is considerably cheaper in Sweden. I got myself sufficiently stocked up for a few weeks.

I've now got a few more weeks of training in Lillehammer before we head to Mallorca for our last dry land camp of the year on the 19th of September.


---
0 Kommentar
Kommentarer
Logg inn for å skrive en kommentar.