Postet av Andrew Travers Cosgrove Young den 30. Jul 2017
It started as flippant remark at the end of a team meeting towards the end of last season. All the athletes on the British team had been asked for their input into the plan for this season.

"What about Stelvio?"
"Could be a good idea, I'll look into it"
"Maybe Livigno first? Then move up to Stelvio"
"Ok, I'll see if we can do it"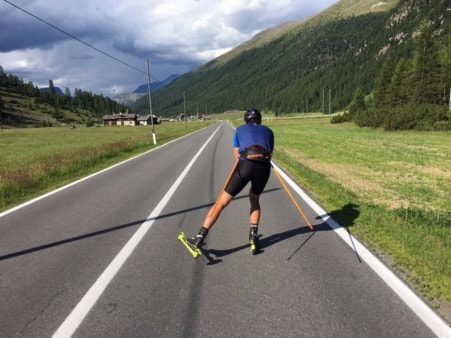 Skating in Livigno
And so I find myself in a hotel at the top of Europe's second highest paved mountain pass, Passo dello Stelvio, at 2760m above sea level. It's difficult to describe to someone who has never been to high altitude what living at 2760m feels like. It's just not really like anything else I've experienced. You become more and more aware of your breathing. The simplest of tasks can set you off panting for a few minutes. After walking up the stairs you hear yourself breathing away as if you've been running on the treadmill for half an hour. Feeling tired becomes the norm. It's like everything you do takes twice as much energy as it would back home. Basically I'm in a constant state of wanting to go to bed and without my daily nap from 1 til 3pm I'm not sure I'd be surviving.
There are risks associated with altitude training, but generally the possible rewards far outweigh the risks. But you have to do everything you can to limit those risks. We didn't just jump from sea level up to 2760m. We spent two weeks training at 1800m in Livigno first. The idea was to get a good altitude exposure and adaptation before we moved up to Stelvio so the adaptation up here would be easier. Knowing how I felt coming up from 1800m I definitely would not like to jump straight from sea level.
The Livigno part of the camp went fairly smoothly. The only negative was that out rental car got upgraded from a Passat to some Alfa Romeo sports car. We had with us two "guest" skiers on the camp, Pål Troan Aune and Sigrid Neråssen. Pål is slightly taller than me at 195cm and I'm 194cm. Somehow we both ended up sitting the back of the Alfa with poor Annika squeezed in between us. By the time we got to Livigno, and it took a long time because of the Alfa's stupid inbuilt gps, my neck was in agony. I could either sit at the side where my head was easily touching the roof causing me to sit with me left ear pretty much on my left shoulder. Or I could sit in the middle where I could sit up right because the sun roof provided just enough extra room for my head, but then I was being squeezed in all directions by Pål and Annika. Once more the air conditioning didn't seem to really work and just sort of weakly blew out some mild air. All I can say is that I hope my first experience of being a passenger in an Alfa Romeo is my last, give me a Passat any day.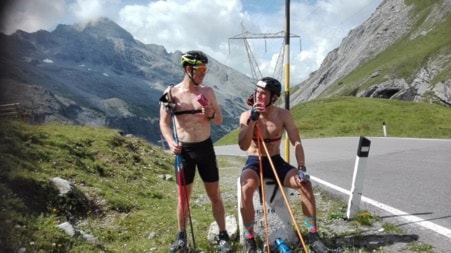 Muzzy and I enjoying a smartfish recovery drink after a rollerski session
The training in Livigno is about as good as it gets. Elite skies have been flocking there for altitude training for several years. And they don't do that without good reason. The mountains are great for running, there is a good gym and swimming pool at the Aquagranda complex, there is a 12k bike path for flat easy rollerski sessions, there is a rollerski track 30min away in Valdidentro for intervals and of course the Italian food is top notch. We did a bit of everything in Livigno. Long runs in the mountains, rollerski technique work, Gym work and we ate a lot of food. The first two weeks of the camp were fairly standard and as far as altitude training goes, they were fairly safe.
The second part of the camp up at Stelvio was a bit riskier and in some ways a bit of an experiment. How high can we go? How much can we push? What are the consequences of fairly extreme altitude training? I've gotten a lot on answers and learned a lot about what I can and can't cope with. We have been pushing the limit of what is really capable with altitude training in Europe. There aren't many places higher than 2760m, Sierra Nevada in Spain is perhaps the only obvious one. The other options involve living on the glacier at Stelvio at 3000m or 3200m. Another option is living at the top of the glacier in Val Senales at 3200m. But all of these are fairly impractical, involving a gondola to get to the hotel and so providing some serious impracticalities for training two sessions a day. In terms of what is really practical for a cross country skier in Europe, Stelvio is as high as you can get. The glacier in Stelvio is also the highest I know of. The cross country skiing is at 3300 to 3400m.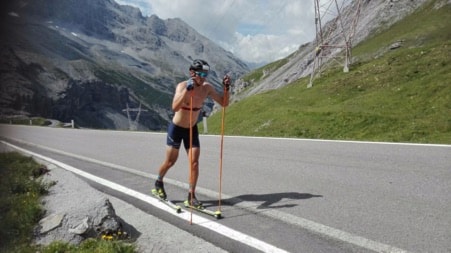 Classic intervals up Passo dello Stelvio from Bormio. 6x10min


We've been training a session a day on the glacier and then either a session rollerskiing or running in the afternoon. Personally I pushed it a bit too much in the middle of the week. We did a lot in the middle of the week, a hard session on the glacier and long session the following day. Now I'm feeling the effect or suffering the consequences. I had an easy day yesterday and didn't go up on the glacier today. Tomorrow morning I'll rest before flying home whilst the others head out for a session. In some ways it's been a great experience to really learn where my boundaries for altitude training are and in other ways it has been extremely frustrating to have to skip some sessions at the end of the camp and not log the hours I wanted. Our next altitude camp isn't before October. Using what I've learned on the this camp I'm sure I'll be able to have an even better altitude period right before the raining kicks off in November.
Stelvio is literally a mountain pass with a few hotels, a car park and a gondola station on the top. There really isn't much to do. We have to be driven down to go rollerskiing and the running is either up to peak or down the valley and back up. It is so high and recovery is so impaired that we have really not had the desire to do much other and sit on our beds in our free time. Card games have become the norm as a regular evening activity. We also discovered that the hotel has chess and checkers sets. So I've been taking James on in a series of checkers which is currently all level at 1 game each.
We have one more night here before we head home tomorrow. I'm ready for more oxygen and some more training and of course Norway Cup next week.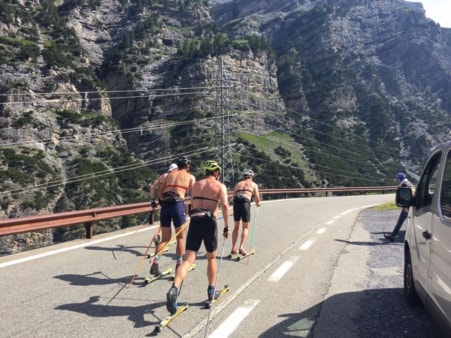 Another shot of the group during the classic intervals.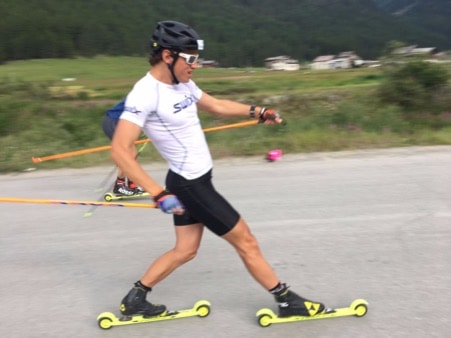 Lunging for the line during a speed session in Livigno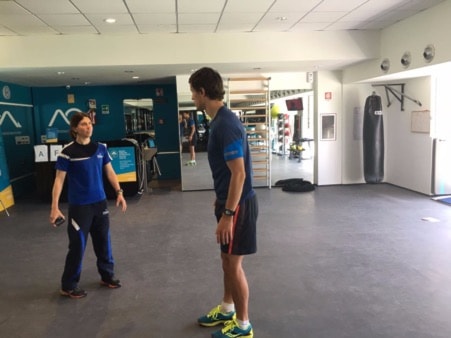 A strength session in Livigno with Catriona, our strength coach fromt he Scottish Institute of sport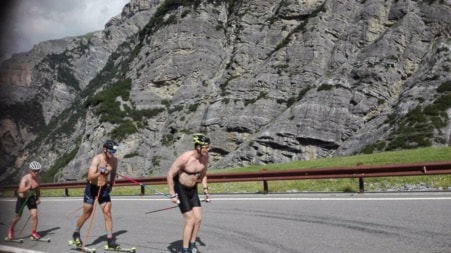 Muzzy leading the group in a classic interval sessions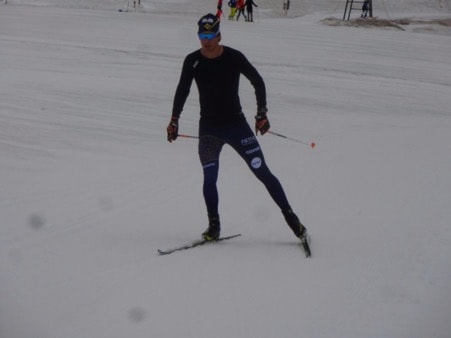 Skating on the glacier at Stelvio
---
Kommentarer