Postet av Andrew Travers Cosgrove Young den 27. Jun 2017
We're now approaching the end of June and summer is well under way. The first part of the training year, the so called start up period, is over.
I'm now getting stuck into my summer training and logging the hours that I will hopefully reap the benefit of in the winter. This past week I've been in Bø in the Telemark region of Norway on a training camp with the British national team together with Team Telemark.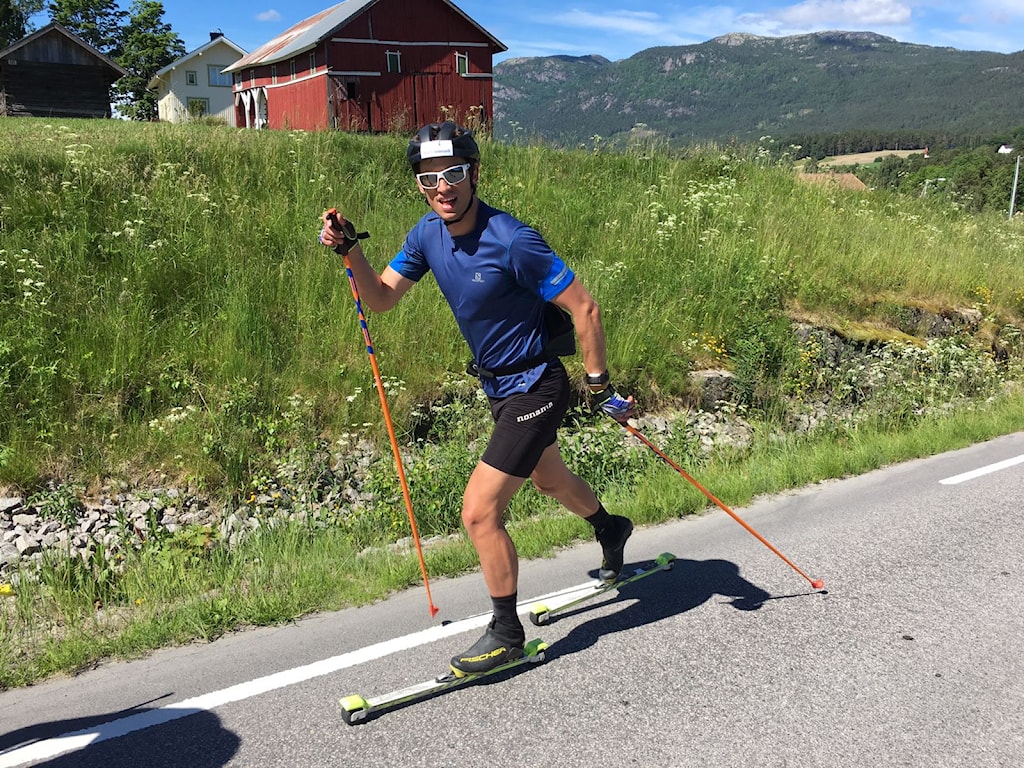 The rollerskiing around Bø was pretty good.

Normally in June we head up to the mountains in Norway in search of snow and summer skiing at Sognefjell or Vikafjell. This year is my first year in about 8 years with no summer skiing on the training plan. I was quite sceptical of this when I first read through the year plan. It's a tried and trusted plan, pretty much every skier in Norway gets snow time in June. The plans for the training camps were such that it was just going to be impossible to fit in a Sognefjell camp. I was left with a choice. Go to Sognefjell for a week with Muzzy and Callum to train with the Norwegian national team. Or go to Bø for a week and train with Team Telemark. After talking it through with my coaches we landed on Bø for a number of different reasons. Mostly with an eye on the total load of my training and not doing too much early on in the training year. I was still feeling pretty sceptical about missing out on Sognefjell until about 2 days before the camp started and I looked at the weather forecasts for both Bø and Sognefjell. 20 degrees and sun in Bø, 2 degrees, rain and wind at Sognefjell.... That made me feel a whole lot better about the situation.
It was my first time in Bø and it turns out it's a pretty nice place for a training camp. The weather was good for most of the week, I only really got wet once on the second half of a long running session. I was the only boy from the GB team there so we organised it that we ran all of our sessions together with Team Telemark. It was good to catch up with the guys from the team, I haven't seen a lot of them in a while.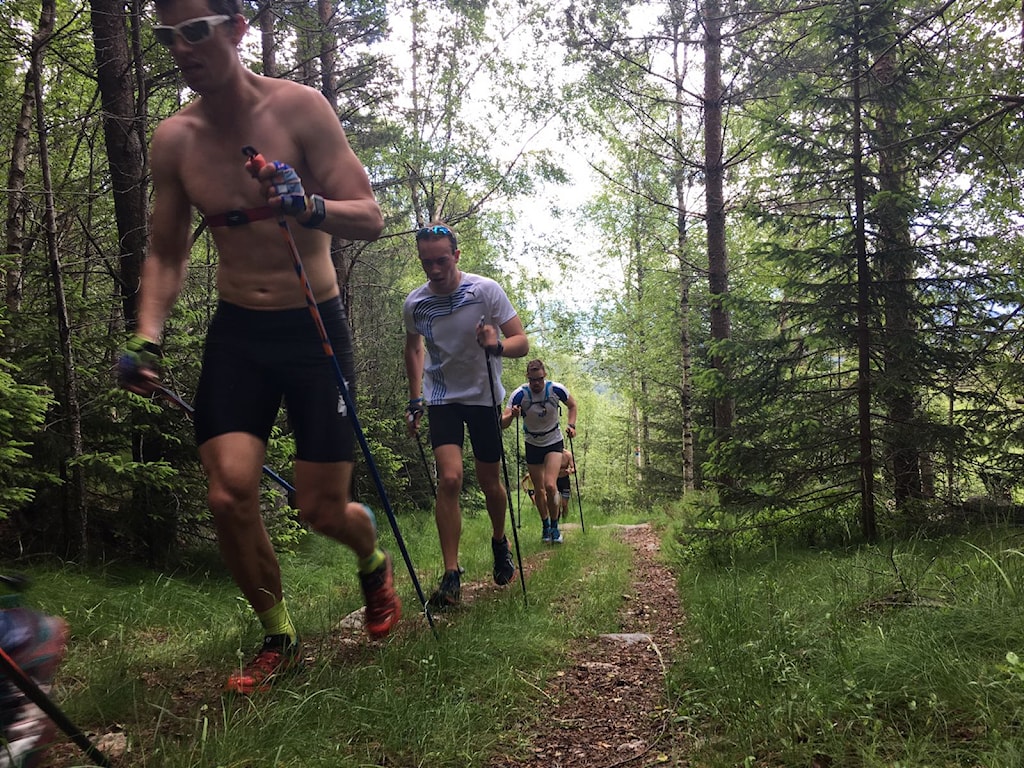 Towards the end of the bounding session - just before I lost my shoe
We started the camp off with some "elghuf" bounding intervals. The coaches were a bit worried about us getting close to the top of the hill we were doing the intervals up so we did 7x5min with 3min breaks so we could run far enough down in-between. Turns out the coaches had grossly over estimated our shape as we got nowhere near the top of the hill. I ended up having a pretty good session and ran with the guys at the front. On the last interval I managed to loose my shoe - in a bog. With my shoe sort of half on half off I carried on running, considered maning up, kicking my shoe off and running on, thought better of it and stopped to put it back on.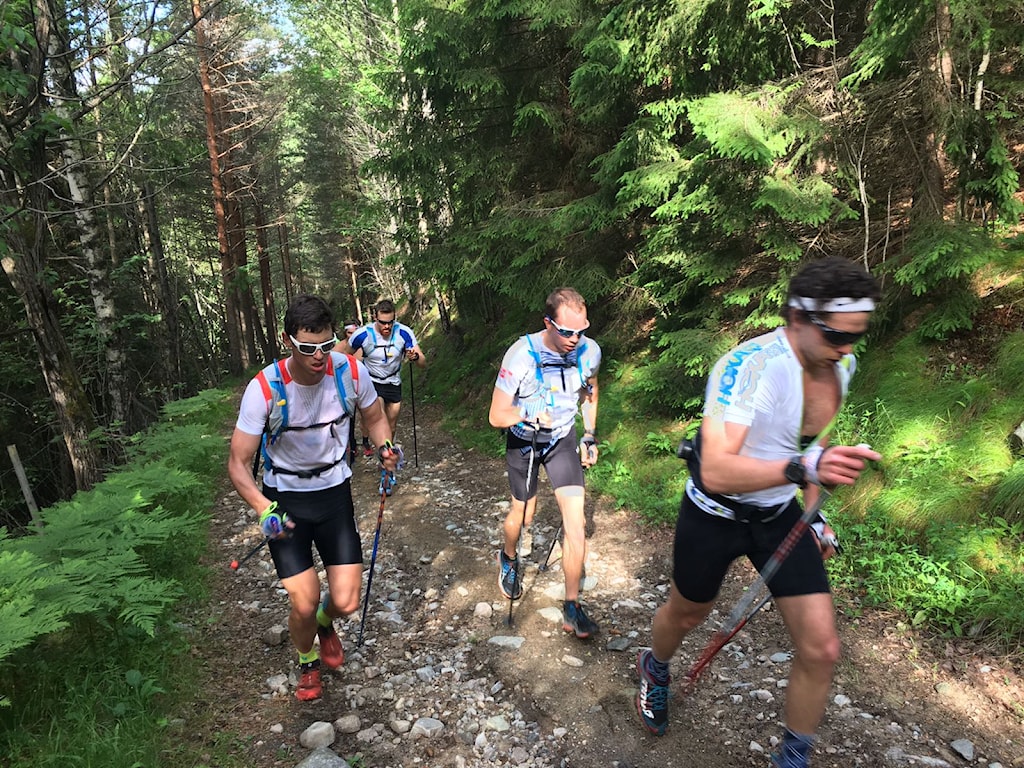 About halfway through the bounding session.
The elghufs session was the only intensity session during the week. The rest of the time we did some technique sessions, speed and strength sessions as well as just some plain distance work. The roller skiing around Bø is good, with undulating terrain and good variation. During the second half of the week there was a kids summer ski school camp going on. It was run as part of the Sommarland Ski Festival. Most of the Team Telemark guys were working as instructors for the ski school. We had to help out as instructors at 1 session each and I ran with the eldest group for half of one of my running sessions as well. It was cool to see the future of Norwegian xc skiing, and knowing that this is just one of several ski schools all over Norway it is easy to see why they are the best skiing nation in the world. My self and Mikael Gunnulfsen had a question and answer session with the kids during one of their lunch times. They had some interesting questions, but we mostly spoke about doing lots of different sports and the sports we did as kids, and why we chose cross country skiing over other sports. It was interesting to hear what sports they were combining at an age of 12 to 14. Most of them were fairly expected but there was a golfer with a handicap of 14 and a wrestler amongst them.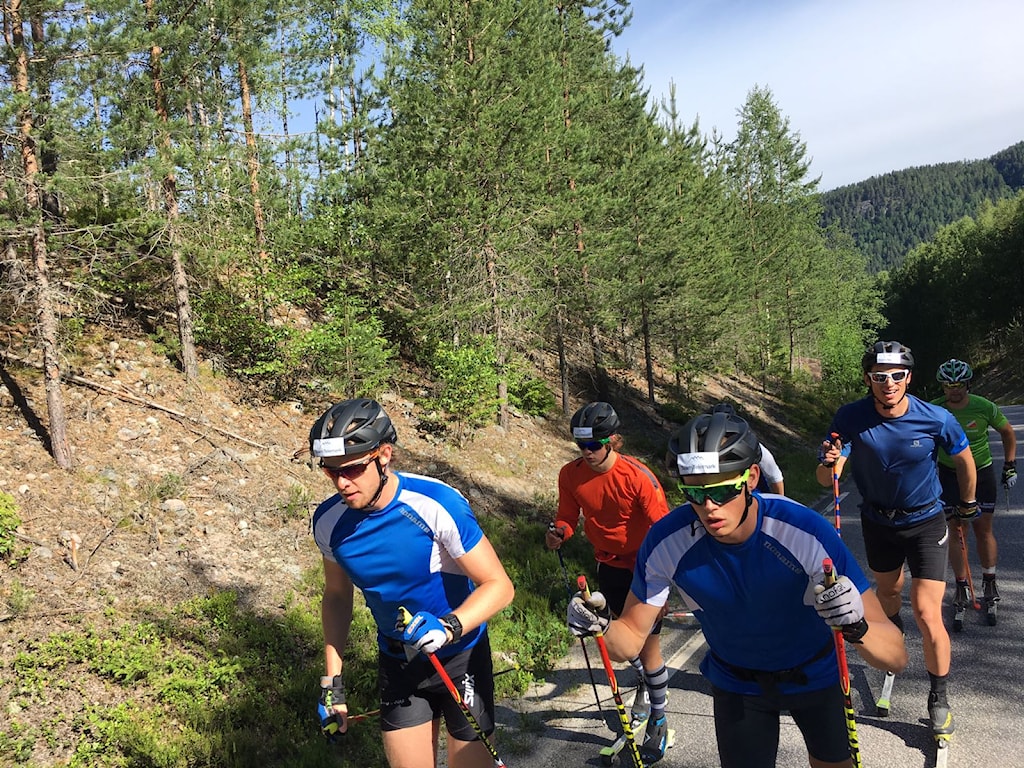 Rollerskiing in Bø
Sommarland Ski Festival rounded off the weekend with two races. A skate sprint in Bø center on Saturday night and a 50k Classic in the neighbouring town, Lunde, on the Sunday. I had a wildcard for the prologue for the sprint, meaning I was directly qualified to the quarter finals. I ended up second in my 1/4 final, 3rd in my semifinal to qualify as a lucky looser to the final and the 5th in a very tight final. It was a really good quality session for me. Together with the warm up efforts it added up to nice intensity session. The following day didn't go as well. But I am a sprinter after all.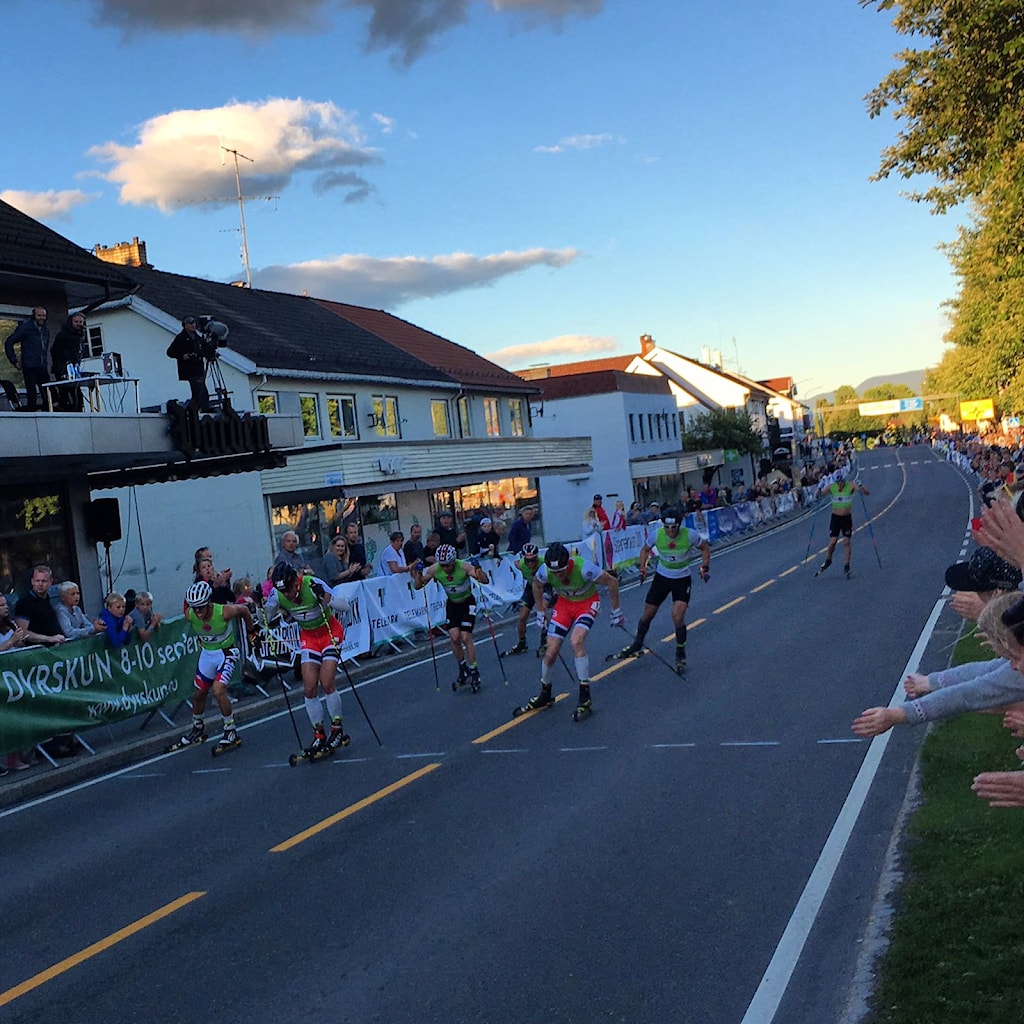 The sprint finish in Bø.
The drive back to Lillehammer from Bø was pretty tiring after a long and tough camp. I had a rest day yesterday and an easy training day today. Tomorrow I should be back into full training. We have two more weeks of training in Lillehammer before we leave for altitude in Italy.

---
0 Kommentar
Kommentarer
Logg inn for å skrive en kommentar.