Postet av Andrew Travers Cosgrove Young den 30. Mai 2017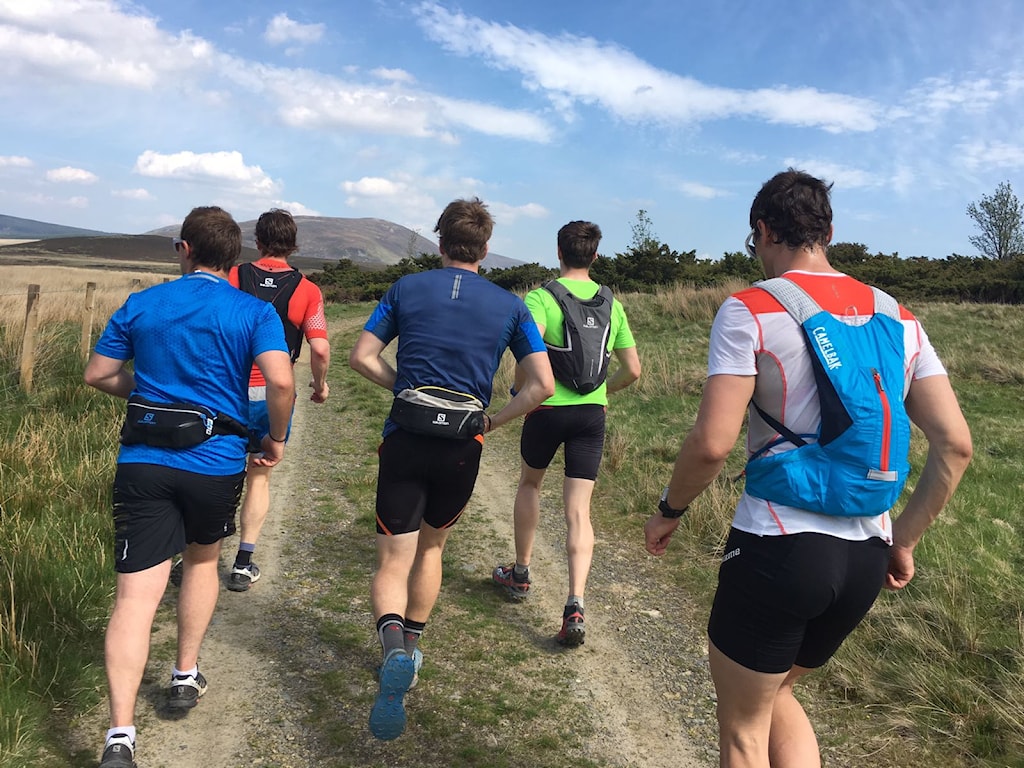 The running section on our long session. Somewhere between Glenlivet and the Cabbrach.
The training season is now well underway. I've just finished my first big training camp with the British team and now I'm enjoying a few easy days trying to recover from what was quite a brutal week.
This was actually the second camp of the training the year, but the first one being only a few days at Sjusjøen and most of time being spent in meetings, it felt like it was the first camp. The first time we were really going to come together and train properly, not just sit around and talk. As we are the British National team we thought it was appropriate that we had at least one camp this year in Britain. So it was decided to combine our the camp with the British series rollerski races in Huntly, Aberdeenshire. The team rented a big house in Huntly, where we could all stay. Although a lot of the athletes are originally from Huntly or nearby it is better for the team that everyone stays together rather than being at home and driving in for the training sessions. We were self catering but the local athletes parents stepped in and made dinner and even lunch on a few occasions. The food for the camp was fantastic, in fact I'm pretty sure my mum made better food for us on the camp than she does when I'm at home.
I'd used the first part of May to get back into training. Doing a bit of everything. Roller skiing, snow skiing, running, gym work and even som testing on the treadmill. But It was still quite a shock to go into a full on training camp. It's been a long a time since I've trained that hard for a week, we probably have to go back to October last year. So the first few days of the camp were pretty tough. But once I got into the swing of things, staying on top of my recovery, my sleep and my nutrition, then the training started to become more straight forward. In some ways you can say the camp jump started my training year, shocking me back into the training routine.
The actual training was like any other camp. There was a lot of it and it was hard. Scotland showed us one of its better sides with the weather being hot and sunny all week. It made training even tougher by having to stay on top of hydration and look after sun burn. Unfortunately I did get some pretty bad sunburn on my neck. But I was no where near as read as Muzzy or Hans who both turned lobster colour in sun. On the friday we set off for a long combi over distance session. We skied for 3 hours before switching to our running shoes an ran for a further 2 and half hours. We set off early in the morning to avoid the worst of the sun, but with the route being mostly in one direction I did notice that I burned quite a bit worse on my right side compared with my left. Luckily, towards the end of the long run we had a river crossing. Everyone took the opportunity to dunk their heads in and cool off.
The week finished with us racing two rollerski races. The Huntly sprints on Saturday and the Clash hill climb on Sunday. Saturday was a busy day with over 50 people racing. It's not often the British team races in the UK so it was great to see so many people out and especially so many young kids out racing and enjoying themselves. We managed to rustle together some old team kit which we all signed as give away prizes for the youngsters. And a few of them even asked to come up and have their photo taken with us. Hopefully by us doing something as simple as turning up to a rollerski race we can inspire the next generation skiers to come through and start racing at high level... time will tell.
Sundays race was a classic race from Rhynie up to the clash car park. We were all under strict instructions from the coaches that we could only double pole. I had a surprisingly good start but faded a bit towards the end to finish 15 seconds behind Muzzy. I was fairly pleased with my effort and it is probably one of the better classic distance races (on skis or roller skis) that I've done for a while.
The final even of the camp we headed into Aberdeen for a dinner and to have a go at escape rooms. We split into two teams for the escape rooms, both teams cheated. Both teams claim the other cheated more. Either way I was on the team that was second to escape from the room, taking 59.50 to escape with only 10 seconds to spare from the allotted 60min. It was pretty fun to see the team working under stress. And the best bit was seeing Hans when he lost!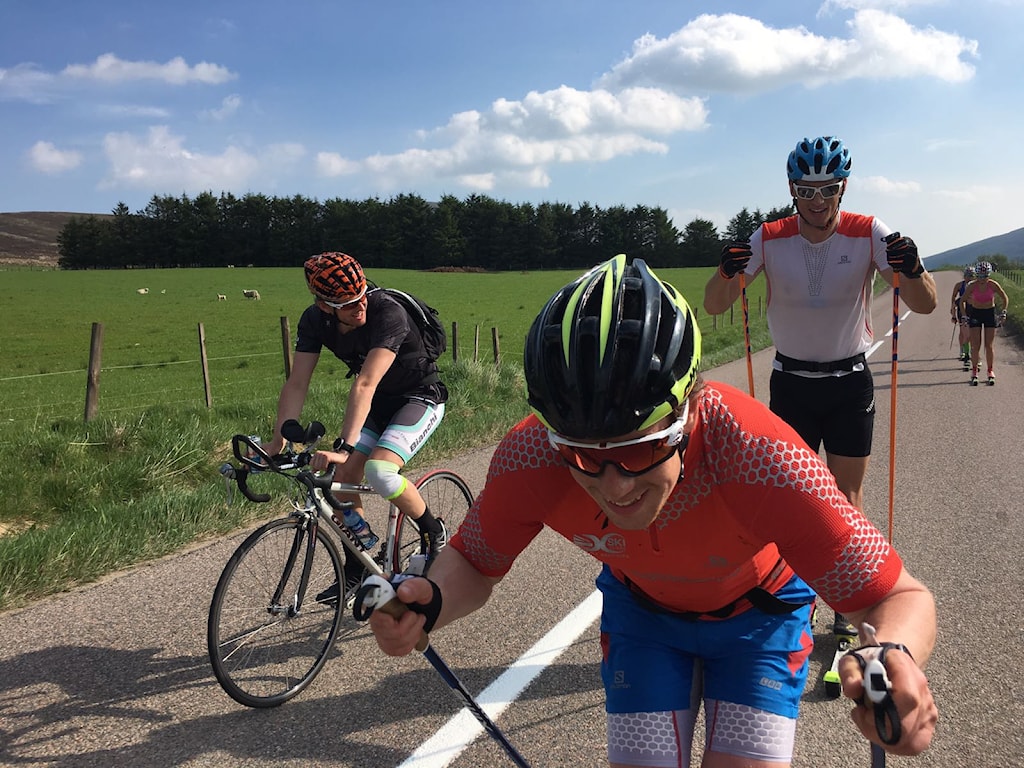 Double poling beyond Dufftown up towards Glenlivet.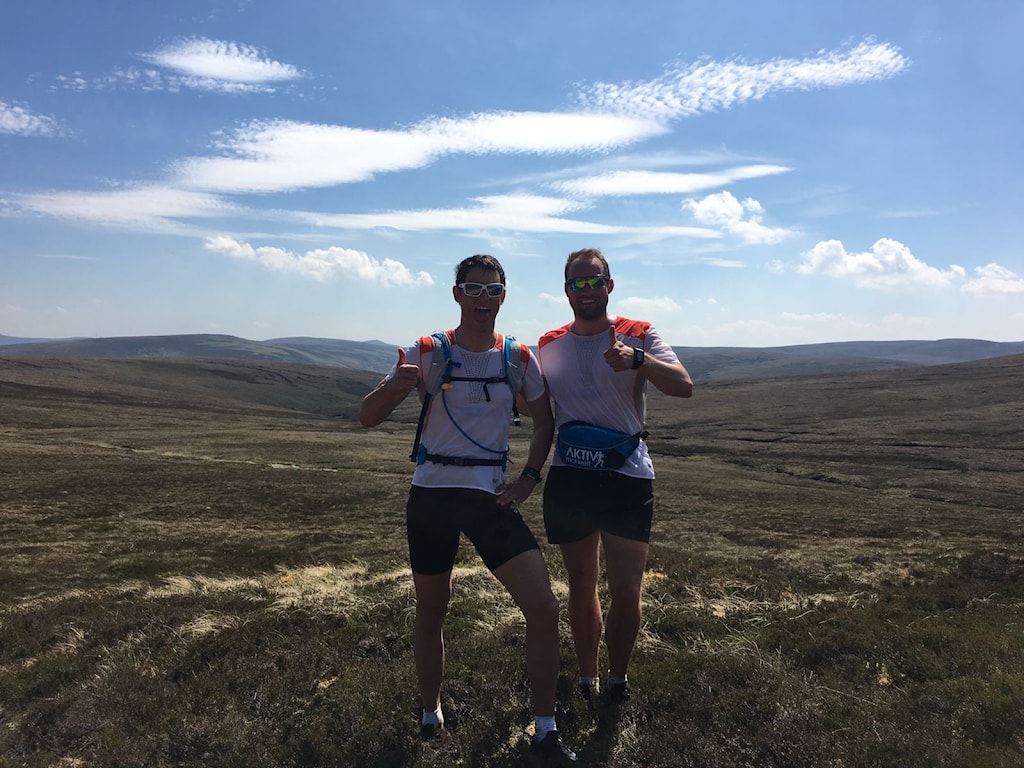 Jostein and I pose for a photo on the long run.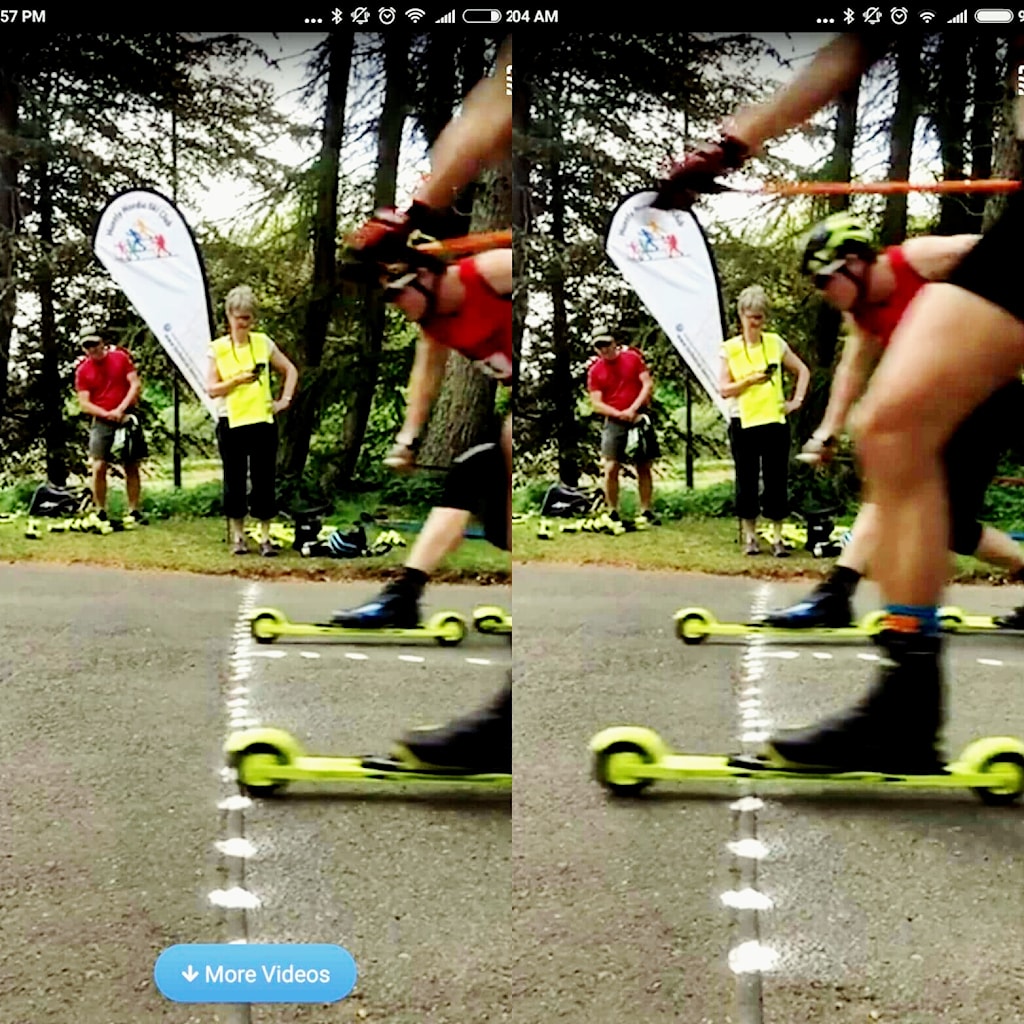 Tight finish between Muzzy and I in the final of the Huntly sprints on Saturday.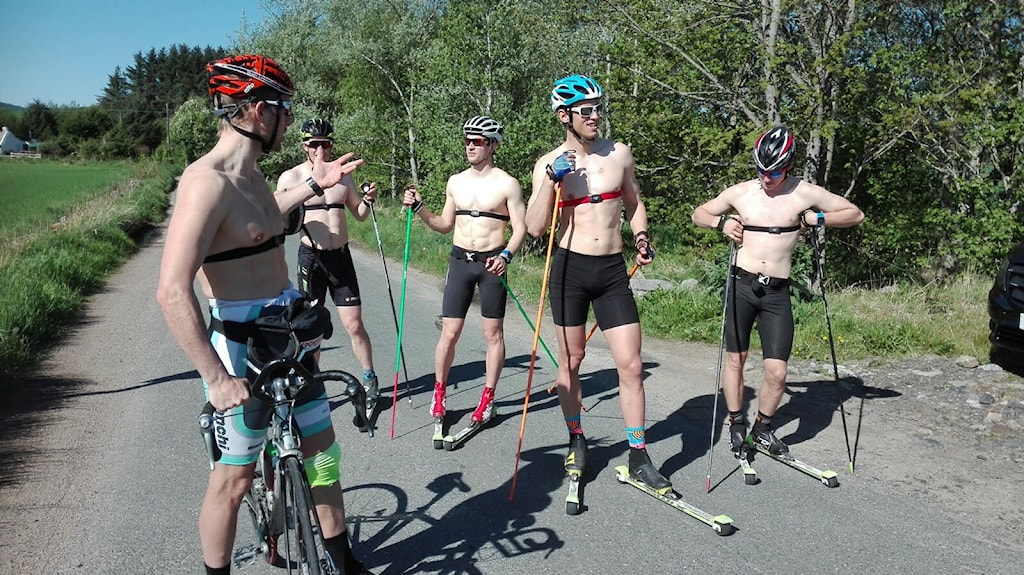 Hot weather meant we "taps aff" training. Here we are stood around waiting for the start of a brutal 10x3min 1min rest double pole interval. We might be smiling here, but we certainly weren't afterwards.
---
Kommentarer
Logg inn for å skrive en kommentar.